Lennox `Pretty Boy' Allen was born on July 1, 1985. His father died tragically when he was only 14 years old leaving him and his three siblings (one boy and two girls) with his mother, Hannah Allen and his foster father Olsen George kept things in place for the children.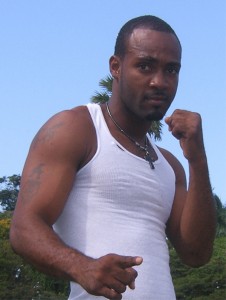 Allen always had an interest in boxing but never took it all that seriously. There was even a bit of fistic legacy in his family. His uncle Godfrey Baptiste was a light weight boxer who would take him to watch his fights.
Allen started his amateur career at the age of 12. He started training with zeal and immediately began winning one amateur fight after another. After being a national champion for four years, Lennox travelled to El Salvador in 2002 at the CAC games and lost.
It was not such a good outing for the then 17-year-old, 6" 2" south paw. On that trip a Colombian edged him 7-5 in the semi-final.
That was his second loss as an amateur after a 50-fight unbeaten streak. He had suffered his first loss a few weeks earlier at the South American Games in Sao Paulo, Brazil when he came up short against a boxer from Argentina heading into the final.
Allen wanted to quit the amateur ranks but was encouraged by long time friend and mentor Keith Bazilio and his coach Sebert Blake.
The young pugilist from West Ruimveldt Front Road started preparing in 2003 for the 2004 Olympic Games box off and his chance to qualify for the Athens Game.
The young boxer never got his chance to attend because the GABA was cash strapped and could not afford to send a team to the qualifiers.
Allen quit the amateur and turned professional aiming his debut on April 16 2004 at the CASH when he knocked out Troy Lewis in two rounds. He then went on to defeat the more experienced Wayne Briggs over four rounds.
In December of 2004 Allen knocked out US based Guyanese Ryan Foster in the first round.
He then headed out to Australia where he made his Aussie debut on Feb. 24 2005 against Eak Ubol Por Muangubol and won an easy unanimous decision.
Two weeks later he was back in the ring this time stopping Joe Lopez in the first round. Allen was inactive for one year before he  stepped into the ring again this time in Indonesia in 2004 March 6 to face hometown boy Ade Alfons and won convincingly on all four scorecards.
Allen then came back to Guyana and had another year away from the ring then on April 7, 2007 he battled an up and coming young fighter named Winston Pompey winning a hard fought decision over eight rounds and by doing so knocked him down three times.
He then faced a 1992 Barcelona Olympian from the Dominican Republic named Rafeal Hit Man Romero but Allen was the hit man in this instance with Romero hitting the canvas three times before being stopped in the first round.
Allen then secured a fight with American promoter Joe Goosein in St Lucia on Nov. 16 2007 against Ameirac Jonathan Nelson on a Showtime in Paradise Boxing Etravanga at the Beausjour Cricket Ground. Allen unleashed a barrage of body shots that forced the referee to stop the contest in the first round after nelson dropped to his knees clearly in pain.
Nelson when spoken to after admitted that speed and the power of the Guyanese was just too much for him.
Allen who is regarded as the hardest puncher in Guyana with a record of nine wins, five kayos has promised to destroy Gilkes and Eastman before setting his sights at a Commonwealth title.
He is undergoing rigid training in Miami, Florida under world champion coach Colin Morgan. He is expected home on Wednesday.
Around the Web