Captain of the Roraima Bikers Club, Darren Allen, won his first road race this year when he blew away the field to win the People's National Congress Reform (PNCR)/National Sports Commission (NSC) organized Forbes Burnham Memorial 35-mile cycle road race yesterday. After the event pedalled off from Carifesta Avenue, and proceeded to the turn back point at Belfield, present NSC five-stage winner Junior Niles and Albert Philander made a short move to the front before they were wheeled back in on Vlissengen Road.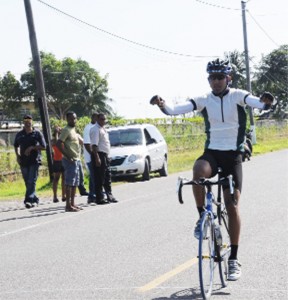 Warren Mc Kay then made his solo move to the front of the peloton in the vicinity of Happy Acres before he was joined by Allen and Kennard Lovell at Mon Repos.
The trio led until the turn back point at Belfield right up to Paradise.
It was at this point that Allen made his move, applying pressure to the two other cyclists with him, resulting in Mc Kay and later Lovell, being unable to keep up.
He was a lone competitor to the finish line, enjoying a time of approximately 45 seconds over Raymond Newton, while Mc Kay, Christopher Holder, Philander and Niles finished in that order. In the process, he won for himself seven of the 10 sprint prizes up for grabs.
Mc Kay took two including the first one whilst Talim Shaw captured the other.
Mayor of Georgetown Hamilton Green was on hand to witness the event along with executives of the PNCR.
Around the Web