Sunburst Camptown stormed to victory over Flamingo Football Club in the Georgetown Football Association's (GFA) Milo Under-21 Tournament at the Camptown Ground on Saturday.
Camptown completely dominated Flamingo on the way to inflicting a 2 – 0 defeat while BK International Western Tigers gained a walkover from Beacons at the same venue.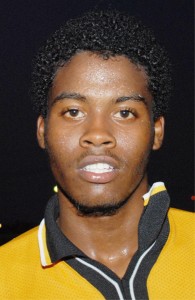 Only one of the two scheduled matches at the Tucville Playfield was contested with Santos FC and Riddim Squad battling to a nil-nil draw.
The Fruta Conquerors/ Uprising encounter was postponed after a request by Fruta for the rescheduling of the match was upheld.
President of Fruta Conquerors Marlan Cole told Stabroek Sports: "Most of the players who would be playing in Saturday's U-21 match up would also be playing in the Mayor's Cup the following night," Cole stated.
However, Uprising's coach Gordon Braithwaite claimed that he saw nothing wrong with the postponement of the game as this would give his team more preparation time.
"I had no problem with the postponement of the game in fact I did not even know that Fruta's Mayor's Cup game was the day after their under-21 match with us. For a fact I know that most of their players (U-21) feature in Fruta's senior team," Braithwaite stated.
"It's hard for youths be playing back to back matches, had it been me I would have liked for the opportunity to give my players enough time to recuperate," he  added.
At the Camptown ground Flamingo were on the receiving end of an overwhelming loss as national junior striker Telston McKinnon scored in the eighth minute.
McKinnon's team-mate Cordell Johnson joined him on the list of scorers after the resumption of the second half when he successful got past the Flamingo custodian with an 82nd minute strike.
The action continues tomorrow with the Georgetown Football Club (GFC) taking on the University of Guyana at the UG Ground, Turkeyen at 4:15pm and BK Int'l Western Tigers engaging the Guyana Defence Force (GDF) at the Tucville Playfield from 4:30pm.
Around the Web