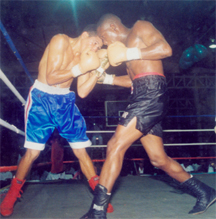 This is the final instalment of the series on boxers born in Guyana who have fought for the Commonwealth boxing titles.
Adrian Dodson (Carew)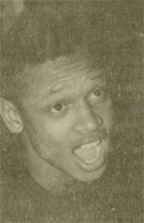 Adrian Dodson was born September 20, 1970 and won his first 18 professional bouts with 14 of them coming by way of knockouts. The former Guyana amateur champion, (who represented Guyana at the 1988 and  1992 Olympic Games in Seoul and Barcelona respectively) defeated Lloyd Honeyghan, the former British, European, Commonwealth and World welterweight champion knocking him out in three rounds on February 25, 1995.
Dodson went on to win the WBO Inter-Continental title on October 7, 1995, knocking out Canadian Hughes Daigneault, t in the fourth round.
On October 5, 1999 in London, England, Dodson lost his fourth bout when he was disqualified for biting opponent Alain Bonnamie in the 12th and final round of their bout for the vacant Commonwealth light middleweight title. At that stage and with just 50 seconds to go Dodson was ahead by the referee in a bout where there were no judges.
In 2001, he defeated Paul Jones, knocking him out in three rounds to win the vacant IBO super middleweight title.
Dodson retired in 2004 with a record of 31 fights with 25 wins (17 by kayos) and six losses (four by kayos).
Vincent `The Kid" Howard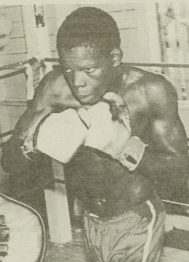 Vincent Howard was born on December 26, 1969. He defeated Michael Parris by a TKO in the 10th round on cuts on February 2, 1995 to capture the vacant featherweight title of Guyana. He was also in a three-bout brawl with Hugo Lewis where he lost two and drew one.
Howard had his first bout in the USA on July 19, 1997 losing to Thomas Johnson on points.  That same year, Howard fought former World champion Juan Manuel Marquez for the WBO and NABO featherweight title and was knocked out in the 12th and final round. He also fought two ex World champions Kevin Kelly and Gairy St. Clair losing both times on points' decision.
On December 4, 1999, Howard challenged Bobby Vanzie for the Commonwealth lightweight title. The fight took place in London, and Howard lost on points. He won his last bout in Bartica on March 26, 2005 when he knocked out Colombian Luis Perez in three rounds.
Howard's record reads 34 fights, 18 wins (nine kayos), 14 losses and two draws.
Howard `Battersea Bomber' Eastman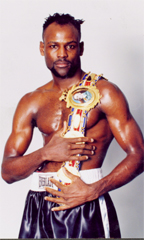 Howard Eastman was born on December 8, 1970 and won his first title on December 11, 1996 knocking out Sven Haymer in the 10th round for the vacant British Boxing Board of Control middleweight title. He also won his first Commonwealth title on September 16, 2000 when he defeated Sam Sullivan on points over 12 rounds for the middleweight title. Eastman also won the vacant EBU European middleweight title on April 10, 2001 knocking out Robert Mc Cracken in the 10th round.
He was forced to relinquish the Commonwealth middleweight title in order to fight for the World title but regained the Commonwealth title on April 16, 2003 when he knocked out Scott Dunn in three rounds.
Eastman is the first Guyana-born fighter to win 32 consecutive fights without a defeat with 28 of those wins coming by way of knockouts.
Eastman was forced to relinquish the Commonwealth title a second time in order to challenge Bernard Hopkins for the World middleweight title but challenged again for the Commonwealth title.
That fight took place on April 20, 2007 at the Concert York Hall in London and he emerged victorious defeating Evans Ashira on points for the vacant middleweight title.
Eastman is the only Guyana born boxer to win the Commonwealth title three times.
He is also the first and only boxer born in the county of Berbice to fight for a World title.
He is the current national middleweight champion of Guyana.
His record reads 50 fights, 44 wins (35 kayos), six losses.
Gairy St Clair, right in action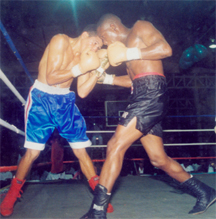 Born February 2, 1975, Gary St. Clair won the vacant lightweight title of Guyana by defeating Vincent Howard on points on February 19, 1999.
He also defeated James Swann by a TKO in round 12 for the vacant IBF Pan Pacific super featherweight title on April 19, 2002 in Australia.
He also kayoed Bart Abapo in six rounds on July 7, 2004 for the vacant WBF International super featherweight title. St Clair won the vacant WBO Inter-Continental featherweight title on August 27, 2004 defeating Decho Bankluaygym.
In 2008, he lost to Amir Khan, a former Olympian over 12 rounds for the Commonwealth lightweight title in London, England.
St. Clair is the only Guyanese boxer to win a World title and then went on to fight for a Commonwealth title.
He fights out of Australia. His record reads 50 fights, 40 wins, eight losses, 17 kayos and two draws.
Around the Web