The Government Technical Institute (GTI) captured this year's Ministry of Sport, Inter-school Mashramani basketball title after thrashing President's College 85-53 in the final on Sunday at the Cliff Anderson Sports Hall.
Watched by a fair size crowd, the East Coast-based school, through the heroics of point-guard Richard Mohandatt, fought hard but found the GTI team a bit too strong for them.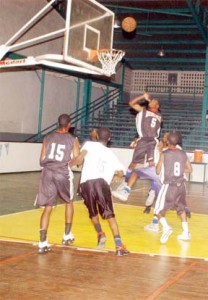 Prior to the final, GTI, even though winning their games by considerable margins, did not play too well but in Sunday's final; they looked more purposeful on the court and passed the ball better.
At half-time GTI led 49-24 with Shelroy Thomas of GTI and Mohandatt of President's College going at each other.
Though the GTI team had the better players, young Mohandatt stepped up and took the game to his opponents who had no one to stop him.
Mohandatt was indeed the Lone Ranger for President's College and finished the game with 26 points inclusive of six three pointers.
Thomas led GTI's offense netting 22 points while Kevin Jordan had 19 points. Colwin Nurse and Keyon Hayles were also in good form for GTI netting 14 and 11 points respectively.
For his all-round game in the final, scoring 19 points, hauling in 15 rebounds and one steal, GTI's Kevin Jordan was named the Most Valuable Player (MVP)
In the third place game, St Stanislaus College (Saints) stopped Charlestown Secondary 59-38. For the victors Jamaal Scott had 19 points while Cowin Gittens with 11 and Seon Braithwaite with 13 points supported well. For Charlestown Secondary, Colin McIntyre had 12 points and Orison Amsterdam 10.
Charlestown Secondary Schools' female team took home the championship trophy after playing undefeated throughout the three-team tournament. New Campbellville were the runners up spot with St Stanislaus third.
Prizes were also awarded to players who performed well in specific areas in the tournament:
Most Rebounds: Cowin Gittens (Saints)
Seon Braithwaite (Saints)
Most Assists: Richard Mohandatt (President's  College)
Most Steals: Ruel Ritch (Marian Academy)
Shelroy Thomas (GTI)
Most Disciplined School: Marian Academy
The tournament which was organized by the Ministry of Culture Youth and Sport saw the participation of 17 schools from around the city and the East Bank and East Coast of Demerara.
Around the Web