– Greaves is defending champion
With the present form some cyclists such as Christopher Holder, Darren Allen, Warren Mc Kay and to a lesser extent Geron Williams are displaying, defending champion Alonzo Greaves will have his work cut out for him this Sunday from 09:00am in Berbice.
That's the day, time and place when the Regional Democratic Council (RDC) of Region Six will be wheeling off the 55-miles B.K. International Inc. sponsored Cheddi Jagan Memorial cycle road race.
Greaves has found himself on the losing side since commencing the New Year with a victory around the inner circuit of the National Park, with three road races being shared by Holder, Mc Kay and Allen respectively.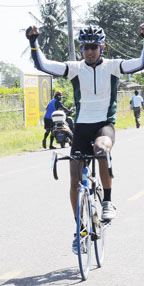 How will he fare in this event would be the question many would be asking since he failed to finish among the top six in any of the three events, and apart from the inform cyclists, there are  also Raymond Newton, Albert Philander, Junior Niles and Robin Persaud, just to name a few others, who have been showing creditable performances on the road this year.
The event will pedal off from New Amsterdam, proceed to Number 55 Village on the Corentyne and turn for the finish at Port Mourant.
Veteran and Upright cyclists will make the turn for their downward journey at the village of Hogstyle.
This race is the first of three that is being organized by three different RDCs in memory of the late President, with the other two being held on 22nd March in Region Three and one week later in Region Two.
Cyclists are being reminded that their club colours and registration numbers must be on display before they take to the line for the start of the race which has eight sprint prizes up for grabs over the course.
Transportation for cyclists and officials will leave the Ministry of Culture, Youth and Sport (MCYS) from 05:30am  Sunday morning.
Representatives of the People's Progressive Party/Civic (PPP/C) will start the race and assist with the distribution of prizes to the first three Junior, Veteran and Upright cyclists, along with the first six finishers.
Around the Web