Captain of the Guyana national cricket team Travis Dowlin yesterday expressed his disappointment at not being able to gain first innings points in either of his team's last two encounters against Jamaica and Trinidad and Tobago in the West Indies Cricket Board (WICB) regional four-day competition.
"While it is comforting to come away with back-to-back draws after four consecutive defeats, it would have been heartening to  both the team and its fans if we could have done so with first innings points under our belt."
"But there are improvements in our batting, something that was troubling us earlier on in the tournament as we have been able to post scores of 302 and 402 respectively in the first innings of our last two games, which means our batting is up," said Dowlin.
The Demerara Cricket Club middle order batsman who celebrated his 32nd birthday yesterday, also made mention of his DCC teammate Darwin Christian's maiden and Narsingh Deonarine fifth first class tons respectively and called on the batsmen to produce at least one ton per innings.
"It is good to have two centurions in the last two games, but it would be better for us if we can have at least one centurion per innings in each game.
That would enable us to post good totals, while at the same time increase our chances of first gaining first innings points, as well as winning our games."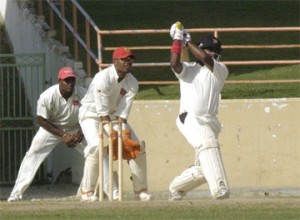 "I would like to see our batsmen, myself included, buckling down and getting some big scores.
Even though some of them would have been undone by some harsh umpiring decisions, we need to complete the job at hand which is returning glory to the nation in our game."
Setting a goal, he said, "If we can get totals in the vicinity of 375-450 our bowlers would have the opportunity to go out there and do their job more effectively. At the moment, that area (bowling) is a worrying one for the team as they are not penetrative as we would want them to be."
"I think that Permaul (Veerasammy) was badly missed. If you look at the form he was in leading up to this tournament and  getting injured at such a critical time in one of our away games, the strain of the bowling, especially in the spin department, was left to Bishoo (Devendra)," said Dowlin.
"But he will be back for the game against the Windward Islands on Friday, which would be an added boost to the bowlers whilst at the same time giving the bowling department the edge and finesse it needs and in partnership with Bishoo, should be a sign of concern for the opposition."
"Apart from that the bowlers need to exercise and display more consistency and patients in their work ethics. These are things we have been talking about on numerous occasions.
We have been calling on the bowlers to be patient as at this level they cannot expect to roll over batsmen easily," he said.
Having lost their first round encounter to the Windward Islands by an innings and 146 runs, Dowlin told Stabroek Sport that nothing but revenge would be on the mind of the players going into the first game of the second round on Friday.
"Once we improve our game in certain areas we can extract revenge on them. In order for us to do so, our batting has got to continue in the same vein by posting 350 plus totals, giving the bowlers something to work with."
"This should not be a herculean task when you take into consideration the form some of our batsmen are in at the moment and with Chattas (Sewnarine Chattergoon) likely to don the whites for us for the first time this season, that can be achieved," said Dowlin.
The Guyanese skipper is asking the authorities at the venue to present a pitch with more pace in it, something similar to that of the practice pitch being used by the teams at the back.
"We know this is Guyana, a land known for slow and low pitches. But when you take a look at the practice pitch at the back, then you come and play on the pitch in front, the contrast is totally different therefore it would be nice if we can get a pitch that has more pace in it throughout the four days."
Around the Web