-Courts Pacesetters: "We are coming strong to defend our title"

By Rawle Toney
In five days time, the Next Level Entertainment (NLE) first division knockout basketball tournament will get underway at the Cliff Anderson Sports Hall (CASH) featuring 16 teams from Linden and Georgetown.
The tournament's defending champions Courts Pacesetters are making it clear that it will be no easy task trying to dethrone them, since they too are looking to make it two in a row. Speaking to Stabroek Sport, coach of the team, former national player Bobby Codogan said that even though they are coming hard, the other teams in the tournament are no push over and they too would want to stake their claim on the coveted title.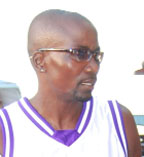 "Defending this trophy will not be easy and my players know this. So we will be stepping up our training this week," said Codogan.  He noted also that a lot has changed for his team since the last tournament, since several of his key players are not with the club anymore, but they are some younger players who have blended in very well and have shown maturity to play at the next level.
The NLE tournament is set to revive the Linden/Georgetown basketball rivalry and Codogan    observed that it will even be harder since his team also has a score to settle with some of the mining town's top clubs. "Everyone knows that where sports are concerned in this country, Linden and Georgetown are always at each other. My team is no stranger to this. As a matter of fact, they are some clubs in Linden who would have a score to settle with us, like the Kashif and Shanghai Kings and Wismar Pistons whom we have stopped before, so I know it will be hard."
"The Kings are always a top contender for any tournament they play in because just like us, the team has some very good players. But we were able to stop them in the Brush's Classic in Linden last year so I am sure, they will be coming at us hard," said the Pacesetters coach. He said too that even though the competition was off last year, the teams this year are eager to go since all of them from both the Linden Amateur Basketball Association (LABA) and the Georgetown Amateur Basketball Association (GABA) have been active in their respective leagues.
At present in the GABA first division league, the furniture giants-sponsored team has only lost one game to Pepsi Sonics and are waiting to play their final game of the league against long-time rivals Dyna's Ravens on Saturday.
This, the former national player cum coach said, will be a good test for his players ahead of the NLE knockout tournament.
Courts Pacesetters Basketball Club by all means, have the right to say they will be coming strong to defend their title, since the club has been able to back their bragging rights over the years.
After winning the tournament in 2007, the Courts Pacesetters have  never looked back and have since been able to come out successfully in most of the tournaments and organized clashes in which they have participated.
Around the Web