S and S Promotions
Saturday night's proposed 12-round card between overseas-based Lennox 'Too Sharp' Allen and Leon 'The Lion' Gilkes has been sidelined and now Gilkes will face Guyana's middleweight champion, Howard Eastman over ten rounds at the Cliff Anderson Sports Hall.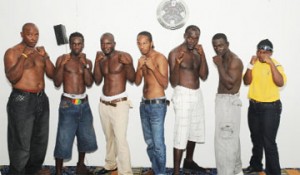 This change was announced at a press conference held yesterday by the Guyana Boxing Board of Control (GBBC) and the organizers of the six-fight card on Saturday, S and S Promotions.
According to President of the GBBC Peter Abdool, his board was informed that Allen had hurt his hand during a sparring session with former IBF light heavyweight champion Glen Johnson.
Abdool also said that the fight was supposed to be an  eliminator with the winner facing Eastman in another bout this year but the fight with Gilkes and Eastman will be a non-title fight.
"First of all we are very happy to have a new promoter on board with us and we would want to make sure that this bout is successful so that many more will come. As it relates to the changes, we are unhappy since we all have wanted to see the young Lennox Allen in action but in boxing things like this happen."
"I am certain too that Allen would have loved to be here to fight Gilkes but now its Gilkes versus Eastman and we know what he has to offer."
"The Middleweight Division is one of, if not the strongest in Guyana's boxing presently. I promise that Guyana will get a chance to see Lennox Allen coming up against Howard 'The Battersea Bomber' by April this year," said the GBBC president.
Gilkes on the other said that it was a privilege for him to step into the ring with Eastman since he is one of the better fighters in Guyana. 'The Lion' also said:  "I wasn't really focusing on Eastman as yet but as he is here I'll take him on. I'm a boxer so I am always up to the challenge."
Eastman with a record of 44 wins (KO 35) and six losses is the current middleweight champion and since returning home he has been the man to beat in that division.
But Gilkes jokingly said somehow Allen never really wanted to fight him because every time the situation arises, Allen is always calling an injury. "I'm not a doctor but every time Allen has to face me, some excuse always coming up.  He knows me very well and he knows what 'The Lion' brings to the ring. But we will meet somewhere down the road."
Meanwhile, in the lone female bout of the night, Veronica Blackman will be aiming to exact revenge against Sharon Ward when they clash over six rounds. Blackman said that it was due to her mistakes that she lost the last time they met but promised that this time around things will be different.
Jermaine King will be making his professional debut when he faces Cicel Smith in a four-round encounter. King, who seems to be a man of few words, said that he will let his fighting do the talking while Smith said that he is ready to teach the young fighter a lesson like no other on Saturday.
Other fights on the night's card include Eversly Brown versus Winston Pompey, Clyde Williams versus Anthony Augustine and Patrick Boston versus Kwesi Jones.
GBBC president Abdool said that the fight between Cicel Alfred and Clifton Griffith had to be called off at the request of the doctor.
"We were advised by the doctor after the two fighters went through the mandatory physical checkup that there is a health hazard to one or both boxer and it will not be wise to put them in the ring on Saturday," said Abdool.
Weigh-in will be held on Friday at 7:00 pm at Kings Plaza Hotel. Tickets are $700 for the stands and $1,500 ringside and are on sale at Kings Plaza Hotel on Main Street and at the Cliff Anderson Sports Hall  on Saturday.
Around the Web