Guyana Rugby Football Union (GRFU) coach Clinton Clarke expects that his three-week stint with the University of Loughborough 2009 BOOST Coach Exchange Programme will result in a boost for Guyana's rugby team.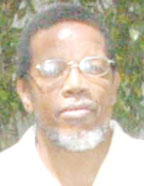 Clarke, who is attached to the Guyana Defence Force and who has served as the army's rugby coach for the past seven years, left Guyana  yesterday for England where he is expected to join two other Caribbean colleagues on the exchange programme at the university in Nottinghampshire.
It will be Clarke's first training programme overseas.
According to Noel Adonis, president of the GFRU, the programme is a continuation of the university's BOOST (Building On Overlooked Sporting Talent) which began in 2006.
Clarke will be the fourth coach to benefit from the programme.
The others are national coaches Sherlock Solomon and Laurie Adonis in 2006 and Alton Agard in 2007.  Clarke had been identified to take part in the programme last year but was unable to do so owing to  travel document problems.
The English university's programme, which supports sports around the world and which is funded by the BOOST Charitable Trust, has sent in return six coaches to Guyana as part of the exchange programme.
In the region, the exchange programme is shared with other members of the West Indies Rugby Union (WIRU).
During his stay, Clarke, who has served as the assistant coach for the men's national team, will participate in rugby training, youth development and coaching sessions at the junior and senior school levels involving boys and girls and in the coaching of men and women at the university and club levels.
During his stay, Clarke will be exposed to Europe's premier rugby15s tournament dubbed the Six Nations Tournament which involves England, Scotland, Wales, Ireland, Italy and France.
Adonis feels that the programme has been a very valuable one which has contributed to improved performance at the national level.
Meanwhile, the GRFU has also brought within its coaching pool two other personnel in fitness coach Cornel Millington and former West Indian player, Theodore Henry.
They will both serve as GRFU's youth development officers/coaches.
Around the Web