FOR four barren hours yesterday, West Indies appeared to have given up something for the Lenten season – taking wickets.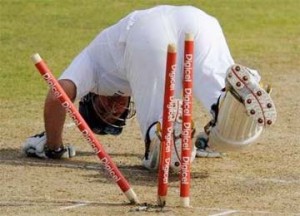 On a day when the expected transformation of Kensington Oval to Kennington Oval was in full effect, West Indies could only manage three post-tea strikes and more than 8,000 English fans in the stands rejoiced in celebration of a record opening stand on the first day of the fourth Digicel Test.
In contrast, hundreds of West Indians were muted in the face a double century partnership that might have brought back unpleasant memories of the 1994 Test between the two teams at the same venue.
Fifteen years ago, captain and vice-captain featured in a first wicket partnership of 171 which was bettered yesterday by captain and vice-captain who put on 229 with aplomb against an honest attack on a pitch that offered a bit of give.
As landmark after landmark was attained, the roars from the jubilant English fans were more and more audible and it brought home the point that home advantage isn't always home advantange.
As captain Andrew Strauss marched towards his 16th Test century, fourth as skipper and second in successive matches and vice-captain Alistair Cook providing essential support before he was prised out by a sensational catch when he was six shy of his own hundred, West Indies were desperately seeking a solution to a major problem.
All of a sudden, the good vibes that were created following the sensational victory at Sabina Park and the Great Escape draw at the Antigua Recreation Ground became something of a distant memory.
By the close, England's 301 for three represented a solid position from which they can press for a series-levelling win against a West Indies team seeking a first Test series triumph against a major international nation since 2003.
For the first two sessions, Jerome Taylor and Fidel Edwards bent their backs on the liveliest pitch of the series, but there was no reward to show for it.
The number of genuine appeals could have been have been counted on one hand even though there were moments of discomfort for both openers.
Everyone will look back and reflect at a relatively simple chance that was put down by Chris Gayle at first slip that was offered by Strauss when he was 58.
West Indies paid dearly for the miss and Strauss, under the gun by the English media after second innings tactics at the ARG, made the most of it in fashioning an otherwise unblemished 142 that was full of lovely strokes in all directions.
The England captain reached his hundred with the champagne moment of the day, a six over mid-wicket off left-arm spinner Sulieman Benn that typified his supreme confidence.
Cook, so accustomed to playing second fiddle, also batted with assurance throughout his 94 although he had to weather a few bouncers from the impressive Edwards, one of which induced a nondescript duck-hook and another that came off the top-edge and went over the 'keeper's head.
The left-hander also edged a ball from Taylor in between motionless wicket-keeper Denesh Ramdin and Gayle who was wide at slip, but those aside, the England vice-captain batted with composure in a display that included only his second six in his  40th Test match.
The opening stand went past the 171 captain Mike Atherton (85) and vice-captain Alec Stewart (118) put on in the 1994 Test match and it also bettered the previous England record opening partnership against West Indies – 212 between Reg Simpson and Cyril Washbrook at Trent Bridge in 1950.
As the partnership became more and more commanding it placed West Indies on the defensive, reducing Edwards to a mere slip and gully in the post-lunch session where 113 were added following an opening period that produced 108 runs.
While Edwards and Taylor were asking questions, the pressure was eased by Daren Powell. Too many loose balls were served up between a few good ones, but as fate would have it, he was the one who finally effected the breakthrough eight minutes after tea.
It came from one of those unplayable balls that coach John Dyson often speaks about as part of Powell's armoury and it was a superb yorker that cannoned into Strauss' off stump after the England captain had batted for more than four hours, faced 210 balls and counted 18 fours in addition to his solitary six.
Cook was eying his eighth Test hundred when he was plucked by an outstanding diving catch by Ryan Hinds that was hauled in inches off the ground after a full stretched drive at mid-wicket. After a double half-century in the previous Test, he would have been disappointed at his dismissal after occupying the crease for four and a quarter hours in which he struck nine fours from 187 balls.
Owais Shah was out of character in spending more than an hour in eeking out seven before edging a cut off Benn to slip and West Indies could also have removed Kevin Pietersen had Taylor been able to cover more ground in running in from mid-off.
It came in the middle of an impressive burst from Edwards with the second new ball in which he bowled with pace, and gained appreciable bounce that sometimes made life difficult for Ramdin behind the stumps.
Around the Web