Gregory 'Jackie Chan' Richardson became the first Guyana to land a contract in the USA's Major League Soccer (MLS) after landing a deal with the Colorado Rapids on Friday last.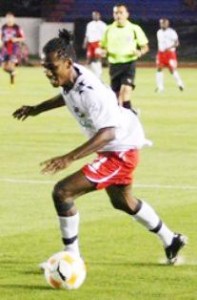 According to information reaching Stabroek Sport, the deal came in a trade with Toronto FC where Richardson was on tryout for the past two weeks. In exchange for the Guyanese striker, Colorado sent their natural second round 2010 Super Draft pick to Toronto FC.
Colorado Rapids head coach Gary Smith said: "I think we are adding a very explosive and athletic forward who I believe has a huge amount of potential and I am sure he will be a wonderful addition to our already youthful and exciting front line."
In a recent interview with this newspaper, Richardson was confident that he would make his dream come through since he stated that it was a done deal for him to be signed. But what he didn't know was that he would not be going to the Toronto team.
The twenty-six-year-old Richardson came to prominence last year during the CONCACAF Club Championship with his Trinidad and Tobago Pro-League club Joe Public when he devastated MLS top club New England Revolution scoring a hat-trick in his club's 4-0 win. He also single-handedly ripped apart several other top clubs in the tournament.
Several international news agencies linked the striker with moves to New England Revolution and other top MLS clubs, including Columbus Crew and San Jose Earthquake. A buoyant Richardson had also told reporters after he had just helped Pele win the million-dollar first prize in the Kashif and Shanghai Tournament, that he had nothing more to accomplish on the local scene. He had said too he planned to move further afield.
Richardson has played on almost every national team for Guyana since first playing at the U-17 level. His first game at the international level was against the Netherlands Antilles when he netted a double in Curacao. The striker later became a regular feature on Guyana's scorecard ever since and his performances only got better over the years.
Even though Guyana did not do too well on the international circuit, 2008 certainly was the year for 'Jackie Chan' to shine.
According to the striker, prior to his departure it was through hard work and dedication that he found himself on the brink of becoming the first Guyanese to play in the US professional league. The diminutive forward earned a reputation for himself last year after a splendid run in the Trinidad and Tobago pro-league where he was also named the T&T Pro-league Most Valuable Player for the 2007/08 season.
The Rapids will open the MLS season on March 21 against the Chivas USA and from all indications, Richardson is expected to be in the lineup.
The team finished fourth in the MLS Western Division in the 2008 season winning just 11 games and scoring 44 goals in total. The MLS Western Division also has some big name clubs and players including world-renowned English midfield player David Beckham who plays for the LA Galaxy. However things did not go too well for the Galaxy last season as they finished in sixth place in that division.
Around the Web