By Rawle Toney
With just two more days before the start of the country's biggest basketball tournament, one of the powerhouse teams from Linden is  not bragging and boasting but are simply saying they will be very competitive.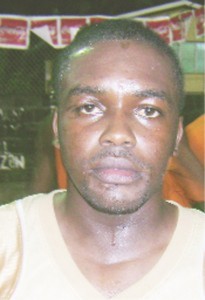 Amelia's Ward Jets are considered a strong contender for the Next Level Entertainment knockout tournament title and team captain Kevin Joseph says that his team is in the midst of heightening their preparations ahead of the tournament.
Speaking with Stabroek Sport yesterday Joseph said he believes that his club's impressive run in the current  Linden Amateur Basketball Association (LABA) league was no fluke and they will prove this when the competition starts.
"Presently we are training in the afternoons and I think the guys understand the importance of this competition and so far they have responded well. We are having some success in the LABA league which is good. Our players have shown good character so far because we had lost two straight games and were able to bounce back well, so I think we well give a good account of ourselves," said Joseph
Though the Jets are accustomed to winning, their scoring has relied heavily on their three primary players, Joseph, Akeem Kanhai and Neil Simon. However, Joseph only rejoined the team midway through the season after returning from overseas.
Before that it was all up to the young Kanhai and Simon.
The diminutive Joseph, who is considered one of Guyana's top point guards, said that while most people look out for the usual players to put up the points, there are some others who are capable of stepping up as well.
"Everyone on our team has their role and they play it very well. Kanhai and Simon are considered our main scorers but there are others who can step up on any given night so I would say that my team is well rounded and that has been the reason why we have been doing well," the stoutly-built player said.
With the tournament also serving as possible selection criteria, Joseph says that a few of his players have a good chance of being called up to the squad. He was quick to name  national junior player  Kanhai who has been in superb form for the Jets and point guard  Simon, who has been putting up big numbers throughout the season as well.
The Jets will be on show against the Georgetown side Maccabees on Sunday and it is felt that the Linden side holds a distinct advantage. The Jets should make it past Maccabees once they maintain their current level of play.
Around the Web