By Rawle Toney
It seems as though the Dyna's Ravens will soon be fighting the battle of their lives when they face the Amelia's Ward Ballers on the opening night of this year's Next Level Entertainment (NLE) tournament which bounces off tomorrow at the Cliff Anderson Sports Hall.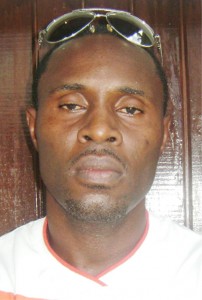 The `Ballers', who are playing in the tournament for the very first time, has never played the city side.
As a matter of fact, this will be the first time the Linden club will be facing an opponent from Georgetown.
But their coach, Floyd Martindale, who is well known for his animated antics on the sidelines, is waging a war against the Dyna's Embroidery sponsored team.
"I respect the Ravens; I don't fear them because the only person I fear is God Almighty. I'm not going to say that we will win, but it's not going to be what most people expect it to be," said Martindale.
With the Ravens being one of the country's top clubs, many basketball pundits predict an early departure for the Linden side which has been struggling to compete in the Linden Amateur Basketball Association (LABA) senior club championship where they have won only two games.
Martindale, though, is adamant that his team will not go down and even if they do, it will be with a fight.
"My team is ready to play mentally and physically and the players they all know the challenge which lies ahead. I know that we are not doing too well right now in the LABA league, but this should not be used to judge or weigh the outcome of the game on Friday, since we all know that anything can happen at any given time," was his candid assessment.
"This would not be a dunk contest so there will be no dunking and crowning," Martindale added in a clear reference to the Ravens team which boasts a number of high flying players in their side.
When asked how he will match playing against the likes of Darcel Harris, Ryan Stephaney and the rest of Ravens premier players, Martindale said: "Right now we don't care who name what and who could do what. My team is going there to war. I'm sure that everyone knows about the David versus Goliath battle and I need not say the story but let's just say I'll be David on the court."
According the `Ballers' coach, point guards Cleon "Pop Eye" Johnson and Leonard Caleb along with centre Eon Ruddock and utility player Donald Benjamin are expected to be his core players on both offence and defence.
"Win or lose my team is just happy to be part of a tournament of this magnitude and I'm even more happy since this tournament only involves the best teams, so that in part is a plus and a victory for my young team.
"I would also like to thank the organisers for having such a tournament where players like those on my team can be seen out side of the Linden arena. But we are very optimistic that we will do well; just remember that I'll be like David on the court come Friday."
Around the Web