National fullbore captain Mahendra Persaud fired his way to victory in last Sunday's Record Shoot over 300, 500 and 600 yards as the 2009 rifle shooting season commenced at the Timehri Rifle Ranges.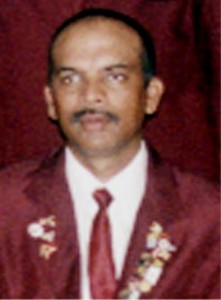 Persaud, in slightly overcast conditions, shot one possible score in recording 100 points with nine V-Bulls.
He also scored 32 points at the 300 yards range, 35 points with four V-Bulls at 500 yards and 33 points with five V-Bulls at 600 yards.
Ransford Goodluck also recorded 100 points but his five V Bulls relegated him to second position.
He scored 33 points with a solitary V-Bull at 300 yards, 34 points with three V-Bulls at 500 and 33.2 points at 600 yards.
Claude Duguid claimed the third spot with 99 points with 6 V-Bulls following scores of 31.2. 34. 3 and 34.2 at the three ranges.
Richard Fields recorded 97 points with four V-Bulls to claim fourth.
Dane Blair (94.7), Dylan Fields (94.5), Paul Slowe (90.3) Ryan Sampson (90.2), Terry Stuart (84.1) and C. Deane occupied the other positions.
In an invited comment Persaud  told Stabroek Sport that the Record Shoot is a part of their preparation for Guyana's defence of the West Indies Short Range Championships due to be held from May 10 to 17 at the Twickenham Park Ranges in Trinidad and Tobago.
Guyana will be seeking a hat trick of titles having won the Short range Title for the last two years – 2007 in Guyana and 2008 in Jamaica.
There are no long ranges in the Twin Island Republic hence the emphasis on short range shooting at present, he disclosed. The local Championships however will be shot over all the ranges from 300 yards to 1,000 yards.  As part of the team's preparation for the West Indies Championships, three Postal Matches will be shot for namely the Jamaica Rifle Association-sponsored West India Cup with two sighting shots and 15 to count at 300 and 600 yards and the Trinidad Rifle Association-sponsored Canada Cup conditions, two sighting shots and seven, 10 and 15 rounds to count respectively at 300, 500 and 600 yards.
The two competitions above are for teams of eight shooters.
Guyana will be hosts for the Crown Mining Trophy which replaces the Gaskin and Jackson Postal – Conditions. This will involve a six-member team with two sighting shots and seven rounds to count over the 300, 500 and 600 yards.
These matches are shot by the territories at their ranges and at their convenience and the scores are forwarded to the secretary of the West Indies Shooting Council and the winners announced at the next West Indian Championships, Persaud disclosed.
Around the Web