-says Kevin Mc Kenzie
United Kingdom-based Guy-anese rugby player Kevin McKenzie will join two of his countrymen and West Indian counterparts in Canada en route to the prestigious International Rugby Board (IRB) sponsored Hong Kong series starting March 27.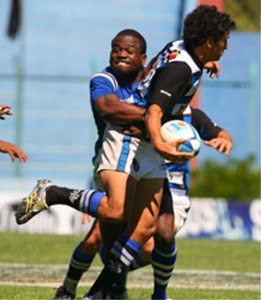 The two are Claudius Butts and Albert La Rose who were part of a group of selectees encamped in Barbados for the past week.
Trinidad and Tobago-based Richard Staglon did not make the team.
Mckenzie, a winger who was in Ireland awaiting a British visa during the Barbados training camp, told Stabroek Sport that he missed his colleagues and the training in sunny conditions while he had to stay fit by training all alone in wintry weather.
In an online interview McKenzie said that training alone for the upcoming tour of Hong Kong is tough.
"I have to go to the track and do my own sprint training. But I have to put in the hard work because I know where I want to be and where I want to go," he said adding that, "I go alone. I don't have a problem with that because success depends on commitment and I have to be committed to be fit and ready."
He said he knows what the international Rugby Board (IRB) Sevens calls for.  At present he said he was reviewing past IRB Sevens series "and I am seeing how hard sevens players have to work."
He said he was also glued to the television looking at the just concluded European Six Nation tournament, which though not a sevens tournament (a Fifteens tournament) to see how much work he has to put in. (The Six Nations tournament involves England, Ireland, France, Wales, Scotland, and Italy). "You would think I know plenty about rugby but I am actually learning a few more stuff about the game. One of the important things I now know is that you talk less and show results on the field so that others follow."
"I would have liked to be with the team in Barbados and endure the pains of training and bonding together over a longer period."
In spite of not being with his WI team mates McKenzie said that he is in regular contact by the internet with the Barbados-based West Indies coach Joe Whipple. Basically he follows Whipple's fitness regime. "I have to let Joe know everything I am doing in terms of training. He tells me what he thinks I should do."
On the other hand McKenzie said that he has been around for some time now and has played for Guyana many times. "So basically I know what I have to do to be Sevens fit."
He said he was also in touch with the other West Indies players based in England, Luther Burrell and Bevon Armitage as well as Guyanese Albert La Rose and Claudius Butts and some of the Trinidadian selectees.
McKenzie who scored five tries in the Uruguay meet said that the tournament was a good experience but he felt "We could have won more matches. The win against a top team in the Uruguay meet, showed that we can compete with any of the top teams but we need to continue what we begun in Uruguay."
Coming out of Uruguay he said that "I really felt good. I was under pressure and I had to play hard but I still feel that I could have done better. However, I am now looking forward to Hong Kong."
Speaking about his position as a winger, McKenzie said that, "You have to be a confident player because you have to move the game forward and finish it. In other words you have to score tries."
McKenzie is looking forward to being on the team and meeting his team members in Vancouver where the team is due to camp and take part in some practice matches with the Canadian national team in Vancouver later this month before the team heads to Hong Kong
At the moment McKenzie is in the process of being transferred to the Bracknell Rugby Football Club in London to the end of the current rugby season because he needs to play some rugby before the Hong Kong Sevens.
The Hong Kong Sevens, known as the IRB's 'Jewel in the crown' will be played over three days from March 27 and features the country's top rugby playing nations.
McKenzie says that he also has some trials with two national teams for the next season. "I'll have to do good and probably I'll get into a national side. That is one of my current objectives. That's the level of rugby I am looking at," he said.
Around the Web