The Guyana Hockey Board (GHB) successfully hosted its coaches workshop on Saturday at the Thomas Lands YMCA building.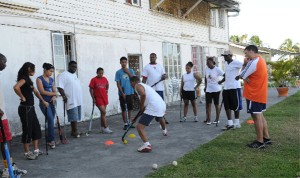 According to Philip Fernandes, president of the GHB, the aim of the workshop was to develop beginner coaches who are likely to conduct school-level coaching sessions as the GHB was focusing on reviving the sport at the school level.
During the training the participants, who are mostly hockey players, where taught the know-how of the sport with specific reference to coaching skills, through theory and practical demonstrations by Fernandes.
According to Fernandes, in order to get coaches ready for the immediate implementation of hockey in the schools, there will be a strong focus on having the participants themselves conduct mini-coaching exercises where they will be assessed and given advice.
The GHB's initiative to revive hockey in schools has already kicked off at North Ruimveldt Multilateral, St. Joseph's High and Marian Academy Schools in Georgetown while several other schools are expected to join the programme soon. (Rawle Toney)
Around the Web