WELLINGTON,  (Reuters) – Sachin Tendulkar's 43rd  one-day international century hoisted India to a 2-0 series  lead over New Zealand with a 58-run victory in Christchurch yesterday.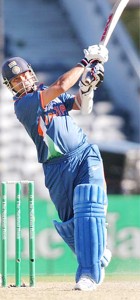 Exploiting the short boundaries at Lancaster Park,  Tendulkar stroked his way to 163 before he was forced to retire hurt after apparently pulling a stomach muscle, though he managed to guide his side to an imposing 392 for four off 50 overs.
"It's a pleasure to watch Sachin's innings in the way he paced it," India captain Mahendra Singh Dhoni said in a televised interview. "He took a balls up front then later on he knew what kind of shots he could play. He's an amazing batsman."
New Zealand began their chase enthusiastically with openers Jesse Ryder and Brendon McCullum putting on 166 for the first wicket before Ryder called the stand-in captain through for a suicidal single in the 22nd over and McCullum was run out for 71.
Ryder moved to his first one day century, which included 12  boundaries and four sixes, before Ross Taylor absentmindedly  left his ground and was run out for seven and Martin Guptill was trapped in front by Yuvraj Singh for one.
The home side slumped to 188 for four when Ryder holed out in the deep for 105, leaving the last recognised pairing of Grant Elliott and Jacob Oram at the crease.
Oram, however, was bowled by Harbhajan for seven and Zaheer  Khan bowled Elliott (18) and Peter McGlashan (seven) in three balls to effectively end the run chase in the 34th over.
Kyle Mills (54) Tim Southee (32) and Ian Butler (24)  extracted some revenge on the Indians for their own treatment  with some lusty blows at the end of the innings, with Mills and  Southee combining for an 83-run ninth-wicket in seven overs.
The onslaught, however, was not enough and the hosts were  bowled out for 334 on the first ball of the 46th over.
Earlier, Tendulkar smash-ed 16 boundaries and five sixes and  shared a brutal 138-run partnership with Yuvraj (87) and a  135-run stand with Dhoni (68) to help India post the highest  one day score in New Zealand.
"It was amazing batting," McCullum said. "The way Sachin  played was outstanding and he got a lot of support from the  senior players as well.
"I guess we just weren't accurate enough with our plans."
New Zealand's attack was hampered by the absence of captain  Daniel Vettori, who missed the game to attend the birth of his  first child in Auckland, and a muscle strain suffered by Butler  after he had bowled just five overs.
"You take Dan's 10 overs and lock them away and know you  have some pretty economical overs there," McCullum added.
"I guess Ian Butler going down injured half way through his  spell and Jacob (Oram) not being able to bowl the full 10 as  well I guess it showed we were a bit light.
"In the end we didn't bowl well enough."
Around the Web