Colin Ming emerged winner of Saturday's General Equipment Medal Play Golf tournament at the Lusignan Golf Course.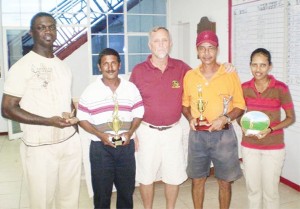 Ming playing off a 10 handicap recorded a Gross 76 to finish with a Net 66.
Twenty-six golfers participated in the tournament under excellent conditions.
Ming also recorded the best gross score of 76.
National ladies' champion Christine Sukhram (handicap 8) finished second with a net score of 69 from a gross 77.
Mike Mangal (handicap 7) was third with a net 71 from a gross score of 78.
Gavin Todd was Nearest to the Pin.
Renger Van Dyke, Chief Executive Officer of General Equipment was on hand to present the prizes to the top performers and highlighted his company's involvement in golf locally.
The tournament also served as a warm up for several local golfers who will travel to neighbouring Suriname later this week for the RBTT Suriname Open Golf championships in Paramaribo.
Approximately 10 players are expected to participate in the tournament which takes place on Saturday and Sunday.
Among the players confirmed for the trip are Ian Gouveia, Jerome Khan, Patrick Prashad, Mike Guyadin, Ronald Bulkan, Christine  Sukhram while the other players likely to attend include 2008 Guyana Open champion Imran Khan and Anders Voight.
Meanwhile, the Guyana Lottery Company will sponsor tomorrow's  Medal Play tournament starting at 12:00 hours.
Representatives of the Lotto Company will be on hand to assist in the presentation of prizes at the completion of the tournament.
Around the Web