Eleven swimmers smashed eight national records at the Guyana Amateur Swimming Association (GASA) Mashramani Swim Meet which ended yesterday at Castellani Pool on Homestretch Avenue.
Leading the way was Noelle Smith of Dorado Speed Swim Club who smashed three individual records while Jamaal Sobers of Orca Speed Swim Club was just behind with two records.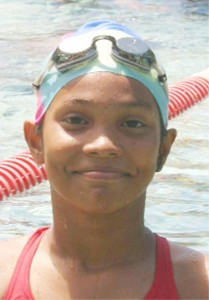 Aureyah Payne of Orca was the only swimmer to make the Goodwill time in the girls' 11 to 12 50- metre back stroke. She entered on a time of 37.13 and trimmed that down to 37.09. In the process she broke her own record which she set last year. This is the third time between last year and the present time that she has broken the record for this particular event in this age group.
Smith, swimming in the 15 to 17 years age group yesterday added another record to the two she set on Saturday. She smashed the 200-metre freestyle in a time of 2:31.45 breaking Kristyl Robinson's time of 2:33.36 which was set in 2006.
On Saturday she broke the 200-metre individual medley in a time of 2:58.00. That record was held by Beverley Fiedtkou in a time of 2:58.00 set in 1999.  She also took the 50-metre breaststroke record from Yolanda Armstrong in time of 42.73. Armstrong's time recorded in 2002 was 43.97.
Sobers made his mark in the 18 and over 50-metre butterfly stroke in a time of 27.89s set on Saturday smashing his own record of 28.06s set in 2008.
Yesterday he also broke his backstroke, 50-metre 2008 record with a time of 29.95s. His previous record was 30.82s.
Alan Lowe of Dorado broke Sobers' 2008 record in the boys 18 and over 50-metre backstroke with a time of 30.78s.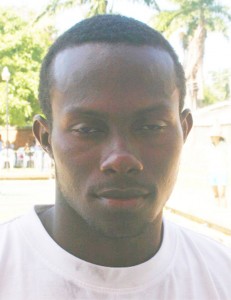 Over the weekend Britney van Lange of the 11 to 12 years age group broke her won 400-metre freestyle record knocking off almost eight seconds off the record she held last year. She clocked 5:25.32s to better her previous record of 5:33.69s.
In the girls 18 years and over 50-metre freestyle event, Kristyl Robinson, Amanda Perreira and Alejandra Vieira smashed Svetlana Farinha's time of 47.99 set in 2008.
Robinson's time was 31.36s; Perreira's was 33.86s and Vieira's time 35.98s.
The age group champions are Sarah King – girls' eight years and under; Daniel Scott – boys' eight years and under; Accalia Khan  – girls' 9 to 10: Stephen King – boys' 9 to 10; Britney van Lange – girls' 11 to 12; Travis Henry – boys' 11 to 12; Athena Gaskin – girls' 13 to 14; Sheik Amir – boys' 13 to 14; Noelle Smith girls' – 15 to 17; Niall Roberts – boys' 15 to 17; Kristyl Robinson – girls' 18 and over and Jamal Sobers – boys' 18 and over.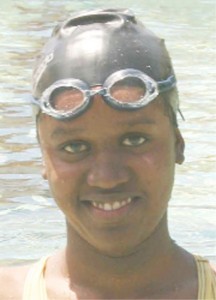 Prior to the start of the annual Mashramani Swim meet, the swimmers observed a minute of silence in honour of the late Ravel La Rose who was Guyana's first male swimmer to win a gold medal in the Goodwill Swim Meet then held between Guyana, Suriname and Trinidad and Tobago.
Yesterday, La Rose's sister Geraldine La Rose was presented with a plaque in honour of his contribution to swimming during the lunch break from the members of the Dorado Speed Swim Club of which he was a former member. (MLR)
Around the Web