Ransford Goodluck defied extremely windy conditions to win last Sunday's second Record Shoot organized by the Guyana National Rifle Association (GNRA) as the local shooters enhance their preparation for the West Indies Fullbore championships in two months time.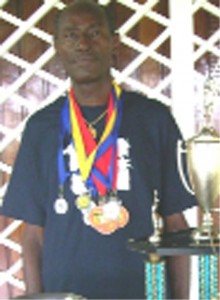 The shooters experienced tough conditions at the Timehri Rifle ranges but at the end of the day Goodluck emerged winner with 99 points out of a maximum 105 points with 5 V-bulls.
He recorded 34 points and 2 V-bulls at 300 yards, 33 points with 3 V-bulls at 600 and 32 points at 600 yards.
Ryan Sampson copped the second position with an overall total of 93 points and 6 V-bulls after recording 28 points and 1 V-bulls at 300 yards, 33 with 4 Bulls at 500 and 32 with 1 at 600 yards.
Inspector Dane Blair occupied the third spot with 90 points and 4 V-bulls with scores of 28.1, 29.0 and 33.3 followed by Assistant Commissioner Paul Slowe who claimed the fourth slot with 89 points and 5 V-bulls  while last week's winner and fullbore captain Mahendra Persaud slumped to sixth position with 86 points and 2 V-bulls two points better than Claude Duguid who had 4 V-bulls while Charles Deane recorded 75 points and 4 V-bulls.
Meanwhile, preparations continue for the West Indies Championships to be held at the Tucker Valley Ranges in Trinidad and Tobago May 10h to 17 with another Record Shoot on Sunday at Timehri while there will be a break during the West Indies versus England one-day international matches billed for next weekend in Guyana.
March 29 will be another practice shoot using the John Carmichael target master ammunition before the National Junior and Senior championships begin on April 5 and continue on April 11 and th.
Team training will then take place for the remaining three weekends with the Postal matches being shot concurrently, team captain Persaud disclosed.
The Guyana contingent is expected to leave here on May 9 for the Twin Island to defend the regional short range title.
The Guyanese have won the title on two successive occasions starting in Guyana two years ago and successfully defended it last year in Jamaica.
Around the Web