By Eion Jardine
While Lionel Gibbs and Oxley Agard were making a name for themselves a little featherweight was going to the gyms to learn the trade. His name was William Richard Adrian also known as `Kid Tanner.'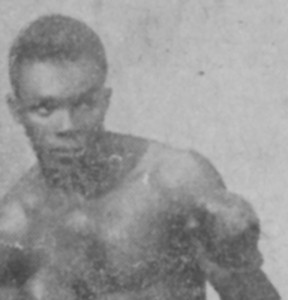 Adrian was born on March 16, 1916 on the West Coast of Demerara.
He commenced his professional career in 1931 and for six years afterwards, the little giant bestrode the local rings like a colossus.
His first fight on April 6, 1931 was a memorable landmark in the colourful life of this great fighter for it produced his only defeat in 15 appearances in the local ring.
The man to do the trick was the clever bantamweight Young Greb who won the verdict on a foul in a four-rounder at the BGFA ground.
Then 15-years-old, Adrian shrugged off the setback and beat Greb in a return match before proceeding to pile up an impressive string of victories.  In his 15 fights here, he won six times on decisions, scored eight knockouts and was held to a draw once.
His was considered the "golden era" of boxing and he was a keen disciple of Babe Walker, that remarkable British Guiana bantamweight champion of the 1920s.
Adrian lifted the featherweight crown on April 6, 1935 with a sixth round TKO over Cecil `Kid Trembling' Barnwell.
He finally got his chance at the big time when another Guyanese Motie Kid Singh, failed to fight Al Tunney of Trinidad in a featherweight bout.
Adrian took the opportunity and won the fight on points.
Motie Kid Singh, the Fighting Rajah was sweeping through India and South Africa, winning fame and fat purses, from rich Indian princes.
It was only natural that Kid Singh, winner of India's featherweight World title and fabulous gold belt, should tackle the dusky warrior.
The two clashed on January 1, 1936 when `The Fighting Rajah' retired at the end of the sixth round with a bad cut over his right eye.
Adrian then travelled to Trinidad for a return bout with Tunney and lost on points. Singh, however, was far from convinced that Adrian had beaten him so on April 25 that same year; they met in a return fight.
This time Singh lasted the full distance of 10 rounds in their featherweight bout but took such a beating that he was never the same again.
Adrian's greatest conquest was in 1937 when he stopped the rated American Alec Verdatt in the fifth round of a scheduled 10 round featherweight contest that still lives in the memory of some fans for the sheer savagery of that decisive round.
Verdatt was an overwhelming favourite and was backed to knock out "The Kid."
One boxing fan from the West Coast of Demerara, Adrian's birthplace said:" Tanner is a greater fighter than British Guiana fans realize.
Verdatt seems to be better than Tanner but its going to be a heck of a toss.
Tanner may stay in the centre of the ring with his piston-like hand speed and may not back away and inch. If Tanner does this he will be knocked out because Verdatt can hit three times harder than Tanner and is also faster and stronger also heavier.
He will have to change his usual methods. He knows it and that's the reason why he has asked Lionel Gibbs to bury the past and come and second him."
Verdatt was badly hammered at close range in the fourth and fifth stanzas.
Adrian pounded away at his body ending the fifth round with a cruel left hook to the stomach which made Verdatt winch.
As he made his way back to the corner at the end of the round Adrian stood in the middle of the ring looking at him, doubtless wondering what had kept him going. He did not have long to wait for an answer for within a few seconds Verdatt collapsed in his corner and had to be rushed to the hospital for repairs.
Then followed two memorable return fights with Tunney of Trinidad, the best featherweight to ever emerge from that country.  Adrian won a close verdict on March 18, 1937 and then proved beyond doubt who was the master by knocking out Tunney in round 5 on April 3, 1937.
Both fights took place in Guyana.
He went on to defend his title when he knocked out `Young Fairfax Ivanhoe in the seventh round retaining his British Guiana featherweight title.
That was his last appearance in British Guiana before he packed up and sailed for England on July 19, 1937. In the Mother Country, he campaigned under the astute management of Tony Vairo.
His first fight over there was promoted by Johnny Best at the famous Liverpool Stadium and he won knocking out a top ranked British flyweight named Kevin Barrett in seven rounds in a featherweight contest. He had one fight in 1938 when he tackled Bobby Mc Gee over 10 rounds knocking him out in the fifth round of a featherweight clash.
He then took on a former world featherweight champ with a record of  108 fights named Albert Chalkey Wright and was stopped in round  seven.
He bounced back in 1939 winning five of his seven bouts including former world flyweight champ Jackie Brown over 10 rounds in a featherweight clash on July 20, 1939 in London.
He thought only in terms of boxing and was such a fighting machine that the British boxers excuse for being beaten was that he was too dark and could not be seen as a result.
He was then made to fight with white gloves, perhaps the only boxer in the world to do so at that time with his impressive victories, he was given a British Empire flyweight title fight on March 11, 1940 against Jackie Patterson whom Cliff Anderson had beaten.
But this was a tricky problem. The stewards of the BBBC recognized the bout as a World title match. The board barred coloured boxers for fighting for the title.
Had Adrian beaten Patterson he would have been normally  recognized as Empire champion but not of Britain, though he had qualified residentially to bid for the title.
If the board gave its sanction for the vacant crown to be thrown in it would have meant that a coloured Briton would win the world honours but not the British honours.
So the board decided not to stake the World title and Adrian further obliged by losing to Patterson over 15 rounds.
He got his second chance of winning the British Empire title on January 1, 1941; he lost to Jim Brady over 15 rounds in a bantamweight clash.
After the Brady loss, Adrian donned the gloves nine more times, defeating world rater Fortuna Ortega over 10 rounds. By now he had earned recognition as a class boxer. It was a long hard road to that World title fight and just when it seemed as if he would get his big chance he suffered a setback with perhaps the last hurdle to clear before his world title dream.
After achieving the number three spot in the world behind K. O. Morgan, he took on Al Phillips in a featherweight bout and lost on points September 13, 1944.
He went on to fight but had little success and retired in 1950 after losing his last bout to featherweight Asger Oscar Warburg, in Denmark.
He died in London 20th April 1963 of a rare bone disease.
Around the Web