National ladies champion Christine Sukhram warmed up for the Suriname Open golf championship with victory in the Guyana Lottery Company sponsored Medal Play tournament Tuesday (You-Man-Nabi Day) at the Lusignan Golf Course.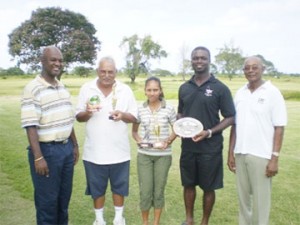 Sukhram who has been named in a team of local golfers to compete in the RBTT sponsored tournament in the neighbouring Republic recorded a Net score of 71 from a Gross 79 playing off of an eight handicap.
Gavin Todd playing off a 24 handicap defeated Dr. Ram Singh on a count back after the two players both record net scores of 73.
Todd recorded a Gross 97, while Dr. Ram Singh playing off a handicap 19 had a Gross score of 92. Dr. Ram Singh also won the Nearest to the Pin prize up for grabs.
Club Captain Jerome Khan who assisted in the presentation of prizes thanked the Guyana Lottery Company for sponsoring the tournament.
Also present at the presentation ceremony were Club President Mel Sankies, Secretary Ronald Bulkan and Treasurer Brian Hackett.
Meantime the local contingent for the Suriname Open tournament will leave Georgetown tomorrow for  Parimaribo. They include Sukhram, Jerome Khan, Ronald Bulkan, Ian Gouveia, Mike Guyadin and Patrick Prashad.
There will be a break from competition this weekend at Lusignan but action will resume the following week.
Around the Web