-Seeram
Eight matches, five losses, two draws and one abandoned.
This is the script for host Guyana who are in sixth position on 20 points and will be facing the fifth place Leeward Islands with 43 points in a 10th round clash of the West Indies Cricket Board (WICB) sponsored Regional four-day competition at the Albion Sports Complex from today.
In an invited comment, coach Ravindranauth Seeram told Stabroek Sport the team is brimming with confidence from their last match against the Combined Campuses and Colleges (CC), and will be looking for their first win in this year's tournament.
"We are looking for an outright win with first innings being the first step towards achieving such. To this effect, the final eleven will be decided on the morning of the match as we have to take a good look at the wicket first."
Seeram would need to be reminded of Guyana's performance the last time they clashed with their opponents, when Guyana lost by 10 runs after taking first innings points and being set a target of 240 runs.
In that match, the Leewards were led by a man-of-the-match performance from Anthony Martin who grabbed 11-120 which gave his team a come-from-behind win.
But what would be pleasing for the coach would be the batting of the team, which was lacking consistency in its four consecutive first round defeats away from home.
"Our batting has come on leaps and bounds during our home games, despite the loss against the Windward Islands. I must say that I am pleased with the application showed by our batsmen, especially Narsingh Deonarine who has aggregated 769 runs so far in the tournament," said Seeram.
The batting will certainly hinge around Deonarine, who having set himself a target of 800 runs for the tournament, has scored two centuries and three half centuries to date in accumulating his runs, and based on his present form can become the first batsman to score over 1,000 in a WICB first class cricket season.
Only Barbados' Ryan Hinds who scored 240 against the Leewards and Devon Smith's 212 scored in Guyana's first away match has scored more runs in a single innings than Deonarine, who scored a career best 198 against CCC.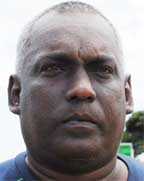 Apart from Deonarine, Assad Fudadin, skipper Travis Dowlin, Royston Crandon and opener Sewnarine Chattergoon have all displayed the temperament to bat long and while the same can be said for Leon Johnson, the weakness for the sweep shot as well as questionable umpiring decisions have been his downfall too often in the tournament.
Fudadin has only played two matches so far but with an average of 45.00 and a highest score of 93 made against CCC during which he shared a 172 runs sixth wicket partnership with Deonarine, he can rest assured of a place in the final eleven for this encounter.
The batting of promising all rounder Christopher Barnwell who has scored 192 runs from nine innings with a top score of 56, along with that of wicketkeeper/batsman Darwin Christian must be of concern to the team's management.
But while Barnwell makes amends with his fast medium pace bowling where he has captured six wickets in five matches at an average of 58.83, Christian who scored his maiden first class century against Jamaica, also has six ducks, the most by any batsman in the tournament.
With the return of Royston Crandon in place of opener Shemroy Barrington, the possibility exists that former West Indies Under-19 vice captain Steven Jacobs may have to content himself with the towel and water duties, as his returns in the middle order have not been good.
Gajanand Singh showed why he was being regarded as the best youth batsman in the country, with his pugnacious unbeaten 43 before the declaration, which may also guarantee him a place in the final eleven.
Seeram stated that the same team which faced CCC in the last game may very well take the field for Guyana in this encounter, which means that fast bowler Brandon Bess who has been lacking in control so far may be spearheading the attack with Barnwell.
"Once again, he (Bess) did the obvious which was not expected of him, and that was to spray the ball all over the place. This was something he was not doing in our practice sessions.  And having three young fast bowlers in Bess, Trevon Garraway and Christopher Barnwell, we are forced to at times make our bowling a spin-based one."
There will be no Devendra Bishoo (out with torn tendon) for this encounter, thus the bulk of the bowling will be done by left arm orthodox spinner Veerasammy Permaul who along with Bishoo are the only Guyanese bowlers with over 20 wickets this season.
Trevon Garraway is a useful fast bowler who can chip in with the bat in the lower order, but with the possibility of the same team which played against CCC taking the field, he may have to wait again.
The Leewards will be brimming with confidence, following their 28 runs victory over defending champions and points leaders Jamaica, prior to their 111 runs victory over CCC, even without the service of all rounder Omari Banks.
In an invited comment with Stabroek Sport, manager of the team Hugh Gore stated that the 26-years-old Anguillan all rounder Omari Banks will be going back to England next week to honour a contractual arrangement with his county team Somerset, and has informed the cricket board of his unavailability.
Banks' place in the team is being taken by Cadville Rogers, who was selected for the encounter against Jamaica.
"Banks has played well for us, but life has to go on. His bowling may not have been what he wanted it to be, but his batting made amends for his bowling failures," Gore stated.
Nevertheless, they will be hoping that Martin and Gavin Tonge, along with Justin Athanaze can produce the spells they have been producing this season, in an effort to add to their team's three victories to date.
The batting has been clicking, with newly-appointed skipper Steve Liburd hitting an unbeaten 116 and opener Wilden Cornwall 102, both against Jamaica. Other useful contributions came from, Runako Morton, Kieron Powell and Montcin Hodge along with Austin Richards Jnr.
But while both teams will be eager to take the field for this encounter, the weather may have the final say  as it has been raining cats and dogs in the ancient county recently, even preventing Guyana from practicing at the Rose Hall Canje ground yesterday morning.
Teams Guyana from: Travis Dowlin (captain), Sewnarine Chattergoon, Christopher Barnwell, Leon Johnson, Narsingh Deonarine, Assad Fudadin, Gajanand Singh, Steven Jacobs, Royston Crandon, Darwin Christian, Veerasammy Permaul, Brandon Bess and Trevon Garraway.
Leeward Islands from: Steve Liburd (captain), Kieron Powell, Tonito Willet, Runako Morton, Montcin Hodge, Wilden Cornwall, Austin Richards Jnr, Devon Thomas, Gavin Tonge, Justin Athanaze, Anthony Martin, Cadville Rogers and Bront De Freitas.
Play is set to commence from 10:00hrs, weather permitting.
Around the Web