A new champion will be crowned this year after defending champions Courts Pacesetters made an exit from the 2009 Next Level Entertainment Basketball tournament as the Linden teams ruled supreme on night four.
Playing at the Cliff Anderson Sports Hall, Pacesetters went down to their arch rivals Kashif and Shanghai Kings 45-51 in a pulsating match while Victory Valley Royals made light work of Bounty Colts  60-49.
Though the Kings/Pacesetters clash was by far the most talked about game in the tournament, it failed to live up to the hype as both teams struggled to find an offensive flow and often displayed poor basketball.
Kings came out looking a bit hazy but this can be understandable since they haven't played competitive basketball since last year's Brusches's Classic in Linden, while Pacesetters who have earned the distinction of being the top club in Georgetown seemed to be the more aggressive with their players looking more relaxed and ready for the challenge. They  led 15-8 at the end of the first quarter.
But the Linden side bounced back to trail 24-26 at the end of the first half by stifling the Pacesetters offensive flow and made a run on their own through a collective team effort since their primary scorers Marvin Hartman and Steve Neils Jr. were both struggling.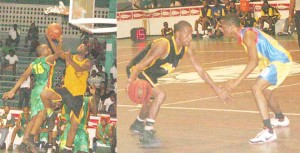 The Kings continued their terrific line or defence in the third quarter with center Jason Alonzo leading by pulling out some huge block shots while Omally Sampson and Dale Williamson controlled the rebounds but still the city team held on to lead 40-38 going into the final quarter.
The Georgetown fans were dumb-founded as they witnessed their top club being outplayed by the Kings.  Neils Jr. who struggled all night found an offensive rhythm when it mattered most. Pacesetters showed no composure as they managed to score just five points in the final quarter.   Hartman who enjoyed a good game led all scorers with 14 points while  Neils Jr. who had a scoreless first half finished the game with 11. Once again Royston Siland turned in a credible performance but this time in a losing effort as he had 12 while Stephan Gillis could only manage seven points.
Meanwhile the opening game between Bounty Colts and the Victory Valley Royals was too much of a one-sided affair as the Colts turned in a jaded performance with a lackluster attitude on the court from jump ball.
Embarrassingly the Colts were down 21-4 at the end of the first half with the Royals feeding off the efforts of their top scorer Dwayne "Brown Sugar" Roberts.
However the Colts picked up some flow but the Royals were able to successfully hold off their challenge to move on to fellow club, the Wismar Piston in the next match.
Roberts finished with a game high 18 points while Chris Williams had ten. For the Colts, Desmond Chin had 14 points and Tristan Lake 11.
Around the Web