By Kizan Brummell
Tiffany Carto and Treiston Joseph of the Police Sports and Royal Youth Movement clubs respectively, carted off the female U18 and male U20 sprint doubles at the Athletics Association of Guyana's (AGG) National Youth/Junior Championships at the Enmore Sports Club ground yesterday.
Carto won the 100m and 200m in times of 12.80s and 26.80s ahead of Ruralties Deja Smartt and fellow club mate Maliyka Francois in the 100m  and Ianna Graham and RYM's Thornhill Shannah in the 200m.
Joseph continued his terrific form claiming his victories with times of 10.80s and 22.80s defeating PSC's Dellon DeAbreau (11.20S) and New Amsterdam Track Club's Okeme Stewart (11.20) in the 100m before coming back  to `settle' Franken Mercurius (23.00s) and club mate Timothy Doris (23.20s) in the 200m.
Ruralites Chavez Ageday clocked 11.00s to win the male U18 100m ahead of NATC's Cortez Fraser (11.10s) and RYM's Jumoke David (11.40s).
NATC's Roxanna Rigby (25.70s) won the female U20 200m ahead of RYM's Mercedes Ford (26.00s) and Running Brave's Nadine Rodriques (27.00s).
PSC claimed both 400m U18 categories when Letitia Myles completed her race in a time of 1:02.20s while Carlwyn Collins' time of 52.50s scorched the field.
Jamaal Holder of NATC defeated Ruralites Shemroy Harry in a time of 18:46.10s in the male U20 5000m while Rising Stars' Chavez Sital was victorious in the male 3000m U18 clocking 10:29.30s.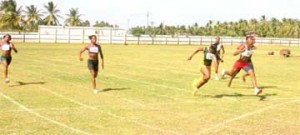 Rising Stars' Jevina Straker outdid club mate Jenella Jonas in the U18 800m with a time of 2:26.30s but Jonas reversed positions in the 1500m, defeating Straker in a time of 5:26.30s.
Enmore Track Club's Ricardo Martin remained persistent winning the U18 800m and 1500m with times of 2:06.00s and 4:45.50s respectively while premier junior 800m champion Philip Drayton dropped out just about 350m into the 800m race.
PSC's Kevin Bailey, who pressured Drayton early in the race, won in a time of 2:06.90s while Shebekie Prince won the female 800m U20event with a time of 2:40.80s.
In other results, Silver Bullets' Kimberly Doris won the female U18 Javelin with a throw of 16.77m while Ruralites' Keshon Shepherd won the male category with a throw of 38.45s.
NATC's Mercurius clocked a time of 52.70s in the male U20 400m and Jamaal Holder won the 1500m U20 in a time of 4:53.80s.
Around the Web