-beat Alpha United 4-2 on penalty kicks
Pele Football Club ended the 14th annual Mayor's Cup tournament with victory over defending champions Alpha United in the final of the Digicel powered competition last Sunday at the Georgetown Football Club ground.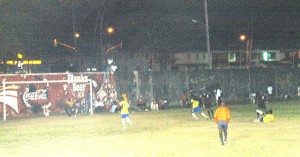 Pele outdid Alpha 4-2 in the subsequent penalty shootout after the teams were deadlocked 1-1 at the end of regulation and extra time.
The Guyana Defence Force (GDF) got past Sunburst Camptown 2 – 1 in the third place showdown.
Former national custodian and Pele coach Denzil `Hunky Brains' Thompson in an invited comment said that his young team still had a lot to learn adding that he was satisfied with the way they played throughout the tournament.
"We delivered and that was what was important. It was a good game, both teams played well and it was a good goal I must admit, that equalized, but we held our composure, held our game plan together and that is what got us the game," Thompson said.
This is Pele's second championship win for 2009 and Thompson told Stabroek Sport they now have their sights on the Cellink Plus Premier League Tournament and becoming the top team in the country.
"Being a champion you have to display a high standard of football and I would not like to say that we will put in extra work in our training session but raise the stimuli," he said.
Pele walked away $500,000 richer and they also copped the highest goal scorer and best goalkeeper awards won by Travis 'Zorro' Grant and Shemroy Arthur.
Grant tallied six goals while Arthur's brilliant goalkeeping in the semi-final and final penalty shoot helped stave off defeat.
Pele controlled the first half and drew first blood in the 13th minute through a goal from Grant.
Grant latched on to the ball as it  rebounded off  a defender inside the 18-yard box and struck it past Alpha's custodian Ronson Williams to the far left corner of the goal.
Both teams had numerous close shaves but eventually it was the defending champions who found success in the 90th minute through an Emerick Williams goal.
No goal was scored in extra time either leading to a penalty shoot where Arthur was the star of the night throwing the Alpha team off with a fantastic save diving to the left against Kelvin McKenzie.
The energetic Shawn Bishop was the next to miss his penalty attempt for Alpha while Pele thumped all four shots past Williams.
In the Camptown/GDF encounter it was the army team who made off with the $100,000 third place prize after defeating their opponents who received $50,000.
GDF led 1 – 0 at half time courtesy of a 42nd minute strike while Stellon David made it 2-0 with a goal in the 70th minute.
Camptown's lone goal came in the 87th minute from the boot of Kester Alleyne.
Around the Web