The Kashif and Shanghai Kings and the Victory Valley Royals  once again stamped their authority on this year's Next Level Entertainment (NLE) basketball tournament by coming out victorious in quarter-final action Sunday evening at the Cliff Anderson Sports Hall.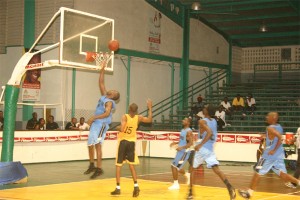 The Kings defeated Nets 59-54 while the Royals crushed fellow Linden club Wismar Pistons 70-51.
In a match of strategy versus power, Kashif and Shanghai Kings tactically outplayed the Nets.
Led by point guard Steve Neils Jr., the Kings played with a lot of patience and passed the ball very well while the Nets were forcing the game. At the end of the first period the score was 23-19in favour of the Kings.
The Kings led  35-32 at half time in a game where the supporters of boths teams seemed to be even.
At the end of the penultimate quarter, the Nets were down by two points (43-45).
But in the fourth period, the Kings went back to their old ways and eventually broke the hearts of the Georgetown supporters.
Neils Jnr., crafted a game-high 25 points while Marvin Hartman had 15. Towering centre Jason Alonso was the backbone for the Kings defence and though he scored just six points, he pulled down some 12 rebounds, had six blocked shots and one steal.
None of the Nets players touched double figures.  Drumson McCauley and Joe Ifill each had nine while Mortimer Williams, who is known as the primary scorer for his side  only mustered eight points.
Meanwhile, in the opening encounter of the night's double header, it was all about Dwayne "Brown Sugar" Roberts who once again showed why he is considered as the most dominant power forward on the local scene.
From jump ball the Victory Valley team wasted no time in going to their go-to-guy Roberts. He was obviously in a zone of his own, leading his side to a slim 46-41 points lead at the half.
Unable to stop Roberts and his Royals posse, the Pistons team, obviously frustrated,  became careless which  worked well for their opponents who capitalized.
Roberts ended the game with 35 points, 12 rebounds, two blocked shots and two steals.
Ron Beckles and Mark Richards supported with 12 points each. After Sunday's play, the semi-finals billed for March 20 willd see the Kings coming up against Dyna's Ravens, the team they defeated in 2006 to take the first NLE title, while Royals are down to come up against Amelia's Ward Jets.
Around the Web