The West Indies team had their first net session at the Georgetown Cricket Club (GCC) ground yesterday afternoon and all rounder Darren Sammy yesterday took some time out to state that the Regional team has the opportunity to grind their opponents down.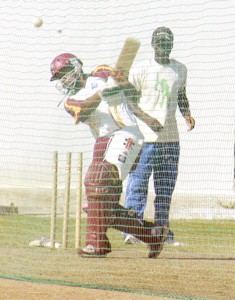 "Taking into consideration the win in the Test series followed by the triumph in the 20/20, our momentum is high and we are looking to carry that momentum over into the limited overs series, where we intend to grind them into the ground."
"Even though we are not counting them out as we expect them to come back hard at us, our main focus is to continue playing well and at the same time keep them under pressure and  try not to give them a win," said Sammy.
Based on his impressive preformances for the Windward Islands in the present West Indies Cricket Board (WICB) sponsored Regional four-day competition, Sammy said he will be looking to bring the same form into the Regional side.
"This team has a newfound energy following the Test and 20/20 victory and with my present form in the Regional tournament, I will be looking to bring my all round game to the team."
"It's always an honour to be a part of a West Indies squad. I am joining a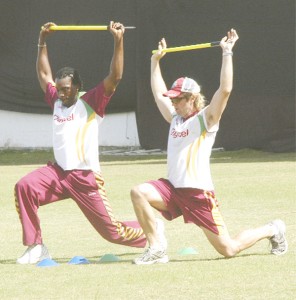 team that has done well so far and the coaching staff has been telling us over and over again, to keep the momentum but as you know cricket is played on the day," the 25 year-old St. Lucian said.
"How well you play determines the outcome of the game, but it has been awhile since the West Indies have recorded a victory over England, and with the present situation we have them in, it is only fair that we grind them into the ground."
"The camaraderie in the camp is very high at the moment and we want to continue doing well in this series. At the same time, we will be taking it one game at a time, whilst maintaining our high level of supremacy against them," said Sammy.
A comforting sight to the Regional team would have been that of skipper Chris Gayle displaying a no non-sense mood in the nets, as he struck the ball to all parts and even out of the GCC ground.
Gayle missed the 20/20 against England on Sunday, due to a slight strain he suffered in the first innings of the final test at the Queen's Park Oval, Trinidad.
West Indies and England will play the first of two matches on Friday at the National Stadium, followed by the second game on Sunday at what is regarded as the fastest drying venue in the Caribbean.
Around the Web