Guyana's middle order batsman Narsingh Deonarine is looking forward to wearing the maroon cap of the West Indies team again, as early as the Regional team's return tour to England.
"When I started this season, my aim was to score 800 runs as that would have placed me in a good position to get back on the team. But being close to that, I have extended it to 1,000."
"I see myself getting back there, but at the same time I need to be consistent with both the bat and ball for my country," said Deonarine.
At the moment, the 25-year-old Deonarine has 863 runs, with a top score of 198 made against the Combined Campuses and Colleges and based on his present form, he can easily go beyond the 1,000-run mark.
"We all have high standards which we set ourselves at the start of any tournament, but at the same time we need to be consistent as consistency brings with it results," said Deonarine.
He also noted that, "We are improving and need to continue doing so not only for ourselves but for Guyana's cricket also. Once we get individual performances, the team will do well."
The diminutive left handed batsman was disappointed at not being able to take the field for the first two days in Guyana's last fixture against the Leeward Islands as rain caused the match to be cancelled.
"That's the work of God which I have no control over, even though I was looking to get a good innings on my home soil, but most importantly before the West Indies team is selected for the tour of England."
Deonarine did get a chance to bat in the middle, where he scored 94, the highest individual innings in a game which ended in a tame draw on a graveyard like pitch at the Albion Sports Complex ground.
When told that the chairman of selectors of the West Indies team, Clyde Butts, thought that both himself and Ryan Hinds were the perfect number six for the Regional side, Deonarine said, "That's the selectors' view and it is nice to know that they have expressed such confidence in me, but it is up to me to continue doing what I have been doing so far this year, which is to play good and consistent cricket for Guyana."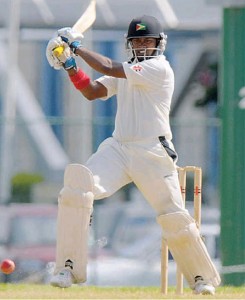 With Guyana having three more matches to play in this year's tournament, Deonarine can go way beyond the 1,000 runs target he has reset for himself this year, and virtually cement his place in a West Indies touring squad to England.
Around the Web