ICC Cricketer-of-the-Year urges athlete to remain disciplined
By Rawle Toney
Guyana's 2009 Sportswoman-of-the-Year track queen Alika Morgan said that meeting West Indies star batsman and 2009 Sportsman-of-the-Year Shivnarine Chanderpaul in person is a dream come through and she is elated to know that her name will be mentioned in the same breath as the world-renowned cricketer.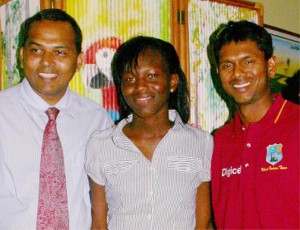 Morgan who met the cricket star upon his arrival at the Cheddi Jagan International Airport with the West Indies team on Monday said: "This is the first time I'm seeing him in person and I'm very happy.
To know that I am being given a top award just like him is also making me feel special."
Morgan said further that the diminutive Chanderpaul encouraged her to continue climbing to  higher heights and to remain disciplined.
"He told me that he was just as happy to meet me since he has been hearing about what I have been doing and he said that if I remain disciplined I can go a far way," the soft spoken distance athlete said.
Morgan after being overlooked last year returned this year with consistent performances on the track to take home also the Junior Sportswoman-of-the-Year award.
Chanderpaul however has over the years become the rock of the West Indies batting, winning a number of accolades whilst being the holder of several records in  the sport.
Apart from being named the ICC 2008 Cricketer-of-the-Year and the number one test batsman, Chanderpaul is one of only six players to have gone 1,000 minutes in Test cricket without conceding his wicket.
Having done so four times, he automatically holds the record as the only player to have done so on more than one occasion.
He is also the only batsman in the history of Test cricket to have faced 1,000 consecutive balls without being dismissed and he is also  one of only four batsmen to have averaged more than 100 in two different calendar years. Only the great Sir Donald Bradman has done so in consecutive years.
Chanderpaul also scored the then third fastest Test hundred in the history of the game against Australia right here in Guyana, and  is currently the third highest run scorer for the West Indies with over 8,000 Test runs.
Around the Web