Minister of Culture, Youth and Sports Dr. Frank Anthony yesterday, told the Alpha United team to stay focused and do Guyana proud, as the Club prepares to face Tempete Football Club of Haiti in their first round clash of the Caribbean Football Union (CFU) Club Championship at the GCC ground Bourda on Saturday.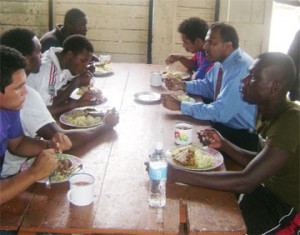 The Sports Minister who joined "The Hammers" for lunch yesterday at the Guyana Defence Force (GDF) Camp Soweyo, where they have been encamped for the past two weeks, asked the players to use playing at home to their fullest advantage and play as team.
The confessed big fan of football stated: "I just want to urge you to go out there and do your best, since the game on Saturday is a very big one. It's the Club championship and given the fact that you are playing in the tournament is a big plus"
"I have seen most of you play already and since you played as a team to come this far, if you continue, the road will be long ahead"
Dr. Anthony also said that football can be used as a tourism tool and the CFU championship can be the stepping stone.
"I really love football since I think it is more exciting than cricket. Don't get me wrong, I'm a cricket fan too but in football there is much more excitement and the game is faster paced and draws a bigger crowd."
"Football is the only sport to overflow the Providence Stadium with spectators and I know on Saturday at the GCC ground, people will come out in their numbers to support you" said the sports Minister.
He further stated that training and encampment of the team at the GDF base off the Linden Soesdyke highway, should serve the players well since they will be more focused mentally and physically stronger. In response, the team's Captain Charles Pollard thanked the Minister for paying them a visit and offering his words of encouragement.
"I'm happy that you took your time out from your work to come here and dine with us. Offering some encouragement is a boost for us in the team morally, because we know it's more than just a game.  So we promise that we will go out there and do our best on Saturday" said Pollard.
The "Hammers" will become the first club from Guyana to participate in the CFU Caribbean Club Championship when they come up against the Haitian top club.
Saturday's proceedings will start at 4:30 pm with Pele facing BK International Western Tigers followed by the Alpha/Tempete clash from 7:30pm.
Around the Web