Sir Vivian Richards, Johnnie Walker responsible drinking ambassador yesterday stated that consumption of alcohol impaired one's reflexes.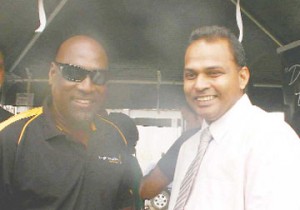 Richards, one of the most destructive batsmen in the world during his heyday, made the statement at a `Know Your Boundaries' simulation exercise on Main Street yesterday.
"This campaign over the past two and a half years proves that alcohol impairs one reflexes," said Richards.
According to Richards when he was sober he was in total control.
"Being sober is the best way to be", he stated.
The exercise was designed to show how the use of alcohol impaired reaction and judgement and was co-ordinated by local beverage giants Banks DIH in collaboration with the Caribbean Brewers Association (CBA) and DIAGEO, owners of the world's leading whiskey, Johnnie Walker.
The initiative by DIAGEO was yesterday commended by Minister of Culture Youth and Sport, Dr. Frank Anthony.
Like they did at the ICC Cricket World Cup in 2007, DIAGEO owners of the world's leading whiskey brand Johnnie Walker, with support from the Caribbean Breweries Association (CBA), is again using their sponsorship of West Indies cricket to promote the importance of Responsible Drinking in the Caribbean.
Yesterday the caravan which has been following the English tour of the Caribbean reached the fifth leg of its journey to promote the slogan "Don't drink and drive."
Meanwhile Sales and Marketing Executive of Banks DIH Ltd., Carlton Joao said the company was pleased to assist in curbing the road rage.
Joao added that the company has always preached "responsible drinking" and would continue to do so.
"If you are going to be drinking designate a driver or use a taxi", Joao added.
And Johnnie Walker regional spokesperson for Latin America and the Caribbean Stuart Kirby said that the reception that they have gotten from the public at large, media and government officials was most welcome.
Kirby stated that what his company wants is to educate the public as much as possible as to the effects of alcohol and why it should not be abused.
Around the Web