By Rawle Toney
Tempete Football Club of Haiti arrived in Guyana yesterday ahead of their away game in the first round of the Caribbean Football Union (CFU) club championship against Alpha United tomorrow at the GCC ground, Bourda.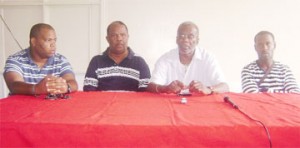 Boasting five prominent members of the Haitian national team, the club, through its coach, Plaisir Wilcuins and president Jean Alix Nezivar, said that they are here to give nothing but their best and a high level of play can be expected.
"This is our first time playing in the tournament just like Alpha and our aim is the same, which is to win. But we know that for us, it's more than just football, we are looking to continue winning and as such we are going to play hard," said the coach, speaking through an interpreter.
Wilcuins, who has been the coach of the team for the past two years, holds a bachelor's degree in physical education and has played football for 10 years throughout Europe. He was also a part of the victorious Haitian side that won the 2007 Digicel Caribbean Cup tournament as well as the side that played in the CONCACAF Gold Cup
Since becoming a coach, he has led the team to two titles in Haiti and said he was confident of success in the CFU club championship.
Meanwhile, Navizar said that while the club is here to win they are also looking to strengthen ties in Guyana and relationships with the local football fraternity.
He was high in praise for Alpha United president Odinga Lumumba whom he said played a major role through various interventions to make their visit to the 'Land of Many Waters' a reality.
"I'm very happy to be here and we are looking to strengthen ties with Alpha Football Club and Mr. Lumumba, but we are here to do our best and look for a victory and move on. I know that it's going to be a tough match but we are here to play football," said Nezivar.
The team had their first practice session last evening at the match venue and will be playing a closed-door practice match today against an undisclosed team.
Meanwhile, the away match between the two sides will be played on March 29 in Haiti.
Around the Web