By Gary Tim
The bands of brothers … make that, ball weaving brothers; or rather soccer siblings … are growing.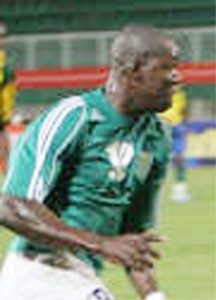 And, the ink is barely dry on one contract, before another Guyanese star nets another goal to play professional soccer in the USA.
The latest addition is striker Randolph 'Blackhead' Jerome who joins the growing list of Golden Jaguars players to ink a deal with a US club, following closely on the signing by colleague Gregory 'Jackie Chan' Richardson to represent the Colorado Rapids.
Jerome will don gear for the Pittsburgh Riverhounds in the United Soccer League's (USL) second division, one year after he played with former divisional rivals Cleveland City Stars (CCS).
The contract takes Jerome on an initial one year period with options for extensions.
It, as well, attaches numerous player performance incentives for the Guyanese forward during the 2009 season.
"We are pretty happy that Randy can take this step to add to our cadre of nationals playing at a high level in the US," said noted US-based Guyanese soccer executive Garth M. Nelson, who manages both Jerome and Richardson.
"We (are) looking to have at least a full squad (11 to 13) of Jaguars practicising their craft at a high level, be it in the USA or elsewhere, before this year is out," added Nelson who worked on the Jerome deal with Colin Baker of the Guyana Sport Development Foundation (GSDF) and Riverhounds' General Manager Gene Klein.
Jerome was in Klein's periscope since his maiden CCS game in which he scored the team's opening goal and assisted in a 2-1 win over the Riverhounds.
"That was my first game for Cleveland, and since then Riverhounds kept an eye and ear on me," Jerome related, adding that Klein has since been in constant communication, waiting for the chance to snarl the Guyanese target striker.
"As soon as Jerome became a free agent, we took the Rivehounds interest to the next level," Nelson offered, adding that the move is "further inroads to promote and develop the Guyanese brand of football internationally.
"It s great to be back in the USA, and I think going to this new team is an opportunity for me to continue from where I left off. I am more prepared to deal with the rigors of the game here than when I was first here."
Jerome's new club, based in southwestern Pennsylvania, is a little over 100 miles away from his old team (CCS) in northern Ohio that has now been elevated to First Division status after starting its existence with two successful seasons.
"I am going with the knowledge that I have a better idea of what to expect and how to accomplish the goals, because my time with Cleveland groomed me for this second coming.
"What you experience is not just soccer on the pitch and training days.  It's more rounded," Jerome conceded.
He noted that his tenure at CCS last year prepared him for life in general.
"Sports at this level is also about giving back … being a good mentor for the kids … interacting in community relations situations and generally making you a rounded player and role model that can represent the sport, your club, yourself and your country."
Jerome, who is currently in New York, will join the Riverhounds on Monday to start pre-season training.
"They already sent me a schedule and that helps me to get focused for the tasks at hand both mentally and physically".
When this newspaper spoke with Jerome he was preparing for a late-afternoon indoor workout, after having enjoyed two consecutive days of outdoor drills in the balmy late-winter weather of the Big Apple.
"I am very thankful for all the work put in to realize this opportunity for me … from Mr. Klein and the club, from Mr. Nelson and the GSDF.  My dream is to aim high," he said.
Jerome also took time to specially laud the breakthrough by compatriot Richardson to play in the US Major League Soccer (MLS).
"I want to congratulate 'Jackie Chan' on his accomplishment. This is a big stepping stone for our guys, and personally for me, it's a motivator." Meanwhile, Nelson reflected on building the Jaguars' overseas-based players' pool, and said midfielders Walter `Boyd' Moore and Sean Cameron are close to tying up deals with teams in the USA.
"Walter is on try-out, while the Rochester Rhinos are likely to add Sean to their roster soon."
Cameron will join fellow Jaguar and UK-born Chris Nurse who was absorbed by the northern New York club, last month.
"These positives for our football are coming from renewed, concerted efforts of all concerned: the players, their clubs, the Guyana Football Federation, other football managers and supporters," said Nelson.
In the USA, Nelson, the GSDF and Steven Springer are leaving no stone unturned to expose the players' talent.
Jerome is likely to see and hear some Guyanese fan support early in his team's campaign as they go on the road for their first two games. They play Crystal Palace Baltimore on April 17th at the University of Maryland, and then travel to take on the Richmond Kickers at the University of Richmond stadium in Virginia on April 25th.
Jerome's Riverhounds was founded in 1999, and has had a capricious history topped off by a semi-final finish in 2006.  During the first five years, it was in the USL A-League, before spending the 2004 season in the Pro Soccer League, then onto the current USL-II.  Needing a win in its last 2008 regular season game, the club missed the sixth and final playoff spot in the 10-team loop, being held to a 1-1 tie at home.
The club, however, reached the 2nd round of the prestigious Lamar Hunt US Open Cup that pooled the top 40 teams in the five senior leagues in the US.  It also put a player each in the league's First-11 and Second-11 teams, with both players being later invited to train with MLS club, DC United in Washington.
In 2007, the club went through a self-imposed competition hiatus to allow for large scale reorganization that saw management changes and a relocation to play home games at Chartiers Valley High School's stadium.
It also partnered with England Premier League's Everton Football Club which resulted in the launching of – for the first time, ever – a training academy for Western Pennsylvania players based on the highly successful Everton training program. One famous graduate of the program is Manchester United and England star Wayne Rooney, while Everton's starting goalie is American Tim Howard.
Around the Web