By Orin Davidson
He came into West Indies cricket as a virtual unknown coach with a few Test caps behind his name.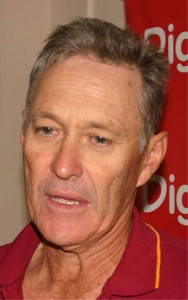 Now West Indian supporters know the real John Dyson.
When the West Indies Cricket Board (WICB) appointed him as coach of the West Indies team, they must have thought they were paying an individual whose main  aim was to make the team a better one.
Now we all know where his priorities lie.
Winning at all costs seems to mean more to the Australian, than the manner it is achieved.
By committing one of the most embarrassing tactical blunders  in the name of West Indies cricket yesterday against England in the first limited overs game of the Digicel 2009 series,  Dyson showed that his sole priority is building his reputation even  if it means winning by the ugliest means.
Now,  he finds himself with his reputation in tatters instead, and West Indians know why he miscalculated the Duckworth/Lewis target requirement and  called  the team off  the field when bad light was offered, thinking they were winning when they were actually facing a one run deficit.
Dyson was too desperate for a victory and wanted West Indies to win at all costs to set the team on the road for another series win.
Of course, a one-day series triumph by West Indies, following up on the 1-0 Test win,  over a country ranked higher,  would significantly  boost Dyson's coaching  resume to land him more rewarding  job contracts in the future.
But West Indies lost instead and the England team was given its  first international win in all forms of the game this season on a platter, for a vital 1-0 series lead.
It did not matter to Dyson that his team was in a better position to win the game than England with 28 runs needed from 22 balls with three wickets in hand.
It did not matter that the packed Providence stadium  and hundreds of thousands  more following on television would have preferred a satisfying victory earned by overhauling the victory target.
Or that Sky TV which paid millions of dollars for the rights would've wanted a full and exciting finish.
Now West Indians know for sure why their team took the field intent on drawing the fifth test match  at all costs  to maintain the 1-0 lead to win the series last week, despite the damage it did to the team's reputation and the sport on the whole.
Dyson is the man calling the shots. The television cameras made it obvious to the world yesterday  and it is now easier to figure out why  he thought it better to win 1-0 than 2-0 in a scheduled five-game Test rubber.
Dyson wanted it that way because he would allow nothing to come in the way of him adding another important accomplishment on his resume activities for 2009.
Unfortunately for him though, even if West Indies rebound to win this five-game ODI series, Dyson's blooper would no longer make him a valued coach.
Even before the Australian made his agenda so blatantly clear yesterday, the pieces were falling into place about his personality.
Earlier this week he was reported in the English press as expressing an interest in the vacant England head coaching position a claim denied by the WICB.
It was an incredible revelation, given the fact that he is in the middle of a contract with the West Indies and opposing the said England team in a series crucial to reviving the regional squad's once lofty reputation.
The England coaching position is by far the highest paid in world cricket with a salary of approximately $250,000 pounds a year.
But as far as Dyson is seemingly concerned, it is all about working his way up and snatching the biggest prize regardless.
To see him calling in Darren Sammy and Denish Ramdin's replacement  and furiously arguing his flawed conclusion  to officials, only to later realize his mistake,  must've been as revolting as any  bad experience to Clive Lloyd watching from the VIP box at Providence.
In his time as West Indies captain Lloyd, was one of the most astute tacticians in world cricket. Such shameful blunders were unimaginable during the late 1970's and 1980's when West Indies ruled the world.
But times have changed in West Indies cricket. All types of personnel of varying abilities have been placed in charge of the team.
West Indies now know for sure where they stand with this current coach.
Around the Web