Linden's Victory Valley Royals and Georgetown's Dyna's Ravens will contest the final of this year's Next Level Entertainment (NLE) basketball tournament this evening at the Cliff Anderson Sports Hall.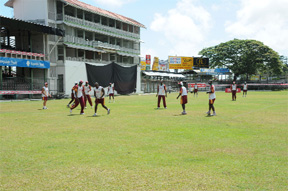 Royals narrowly edged fellow Linden club Amelia's Wards Jets 68-64 while Ravens defeated the Kashif and Shanghai Kings 69-54.
A large and highly enthusiastic crowd which included West Indies batsman Ramnaresh Sarwan witnessed what was the biggest clash of the tournament.
Both Kings and Ravens lived up to the hype and displayed the best basketball of the tournament to date.
Off the first tip which was won by the Linden side, Marvin Hartman opened the score sheets by nailing a dagger from downtown which brought the many Lindeners in the stands to their feet in jubilation.
But as they always say, the race is not for the swift.
Ravens answered with Darcel Harris emulating Hartman's shot and at the end of the first period, Ravens led 28-20.
Steven Neils Jnr. stepped up in the second quarter and led the Kings' offensive run which enabled the Kings to tie the score at 32 at lemon time.
In the second half of the game the Ravens players apparently grew new wings and flew by the Kings.
Some good coaching by Lugard Mohan and excellent execution of his systems by the Ravens players were the cause of the Linden's team's defeat.
Ryan Gullen, who steered the Ravens backcourt throughout the night, finished with 13 points and snared nine rebounds while Kevin Lawrence had 17 points and seven rebounds.
Neils jnr. came out big, scoring a game high 25 points but none of the other Kings' players touched double figures.
Abdulla Hamid and Omally Sampson each contributed eight points.
Meanwhile, Dwayne "Brown Sugar" Roberts again dominated as the Royals barely got past the Jets.
The Amelia's Ward-based team as expected came out gunning but played more as a team than individual basketball to lead 18-17 at the end of the first quarter.
However, things got a bit tough on the Jets after Roberts led his team on a relentless attack and the Jets' defence buckled tremendously.
At half time the score was 37-29 in favor of the Royals.
The Jets made a run in the fourth and final period with just under a minute remaining.
Their point guard, Kevin Joseph, using his swiftness and good ball control, evaded the Royals defence but the centers' made a mess of his efforts by dropping the passes.
Roberts finished the game with 26 points, six rebounds, two blocked shots and three steals.
He was heavily supported by Orlando Glasgow with 19 points.
For the Jets Joseph had 10 points while Delbert Caesar had 14.
Tonight's winner will walk away with $300,000 while the second, third and fourth-placed teams will receive $200,000, $100,000 and $50,000 respectively.
Around the Web