Former Guyana and West Indies cricket legends Clive Lloyd and Lance Gibbs were the guests of honour at a cocktail reception last Saturday evening at the club where they began their trade, Demerara Cricket Club (DCC).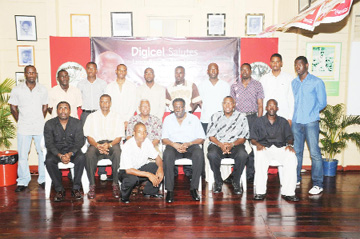 Both Lloyd and his cousin Gibbs were also the recipients of their International Cricket Council (ICC) Hall of Fame caps, presented  during the luncheon break of the West Indies/England first One day International at the Guyana National Stadium, Providence on Friday.
The 64-year-old Lloyd played 110 Test matches for the West Indies, where he scored 7,515 runs including a top score of 242 not out against India, and at an average of 46.67, while his overall first class average was 49.26, based on his 31,232 runs made from 490 matches.
He was also a useful right arm medium pacer who claimed 114 first class wickets with his best bowling figures being the 45-48 he took for Lancashire against Leicestershire at Old Trafford in 1970.
Upon his retirement from the game, he performed duties of coach and later on was manager of the West Indies team before he was appointed match referee and later elected as chairman of the ICC Cricket Committee, following past chairman Sunil Gavaskar's resignation.
While not much can be said about Gibbs with the bat, since his top score for the West Indies in 79 Tests was 25, no doubt his name would be on the tongue of many cricket fans with regards to his bowling.
According to Cricinfo, Gibbs "allied pronounced spin and bounce to a fierce accuracy and from an unusual chest-on action …and add into the equation almost unlimited stamina and determination," it was no surprise that he became the first West Indian and the first spinner to claim 300 Test wickets.
When Gibbs turned his back from the game on the field, he had taken 309 Test wickets from the 79 matches he played at an average of 29.09, whilst he took 1,024 first class wickets from 330 matches at an average of 27.22, including a best of 8-37.
Current  president of DCC and former national under-19 batsman Alfred Mentore in singing the praises of the club's two legends, labelled them as two of the finest cricketing greats of yesteryear to have represented the Queenstown-based club.
"Today marks a special day in the history of the DCC, which dates back to 1912. From its inception, DCC assumed and executed the role of cultivating, developing and providing young cricketers with the necessary tools to realize their potential to the fullest."
Mentore further stated, "You only need to examine a short list of the club's characters of past and present members and names of sports legends in Lloyd, Gibbs and the late Roy Fredericks, just to name a few, stand out as larger than life figures, and with that in mind, the members of the club saw it fit to honour both Lloyd and Gibbs, with this cocktail reception."
Prior to the start of the night's proceedings, the club which also produced past West Indian cricketers such as Roger Harper, Keith Semple, Berkley Gaskin, Philbert Blair and M. P Fernandes, observed a minute's silent in  memory of Fredericks.
Around the Web