Ever so often in every sport, a young player with significant talent would emerge and in Guyana a 17-year-old Lindener  named Akeem Kanhai is creating quite a stir in basketball.
Over the past year, the spotlight has been on Kanhai of Linden who plays for  Amelia's Ward Jets and after his showing in the just-concluded Next Level Entertainment (NLE) tournament the buzz is getting louder.
Kanhai rose to prominence after dominating at the school level in Linden and he has also become one of the top players for Jets.
But even though he was touted as being one of the best junior basketball players in Guyana, he was yet to show what he can do against competition outside of Linden. However, the player did so with much distinction in the recently concluded Next Level Entertainment (NLE) basketball tournament.
His team was knocked out in the semi-finals and finished fourth in the NLE tournament with Kanhai averaging 15.75 points and 9 rebounds with his biggest game coming against Kashif and Shanghai Kings where he scored a game high 25 points playing against some of the best players in Linden and countrywide.
According to three former national players turned coaches – Abdulla Hamid, Lugard Mohan and Bobby Codogan – he is steadily improving and if he continues to be as disciplined as he is now  he can only get better.
Mohan, former national captain and two-time Caricom All-Star player, who is also the coach of the victorious Dyna's Ravens team, said that Kanhai reminds him a lot of his younger brother Orin "Baby" Mohan but he has a better advantage with his height.
"Since the first time I saw him I said he looks just like "Baby" but what will make him a bit better is that he has a big thing going since he is much taller. I think that he is extremely talented and what amazes me is that he is only 17 years old. He is also very disciplined and once he keeps this up he will certainly have a bright future in the sport," said Mohan.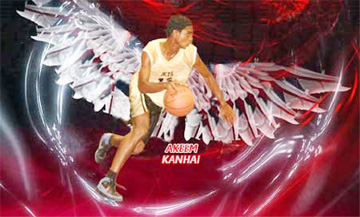 Codogan who is Guyana's national coach said: "Looking at Kanhai I think he is certainly one of the players who can do us proud. I like his discipline and his age is just right. At 17-years- old and the way he plays tells how much more he has to grow in the sport."
"I think all he has to do now is keep working hard on his game and throw on some more size and do some gym work. At 6'4" he is a big point guard and we always said that we needed a big point guard. So certainly I think Kanhai is if he continues down the right path he will have a bright future in the sport."
Meanwhile, Hamid, a well known figure around the basketball arena in Linden said  that the player at age 17 is the best junior player in Guyana and can be mentioned among some of the top players in Guyana at present but now he has to work on his leadership.
"I think Kanhai is now growing in the sport but the stage  at which he is now, is just remarkable. But now he has to learn to be a leader because people are looking at him to lead them home. I think once he has this he will be a force to reckon with."
Meanwhile, thinking like true coaches, the former national players cum coaches all said that it is great to see someone who is bursting out at such a young age since it has been a while since Guyana has had a player who is blossoming this young.
Over the years several Guyanese were given scholarships to play in colleges overseas – Lancelot Lonke, Orin "Baby" Mohan and Remington Ram, and according to Mohan at 17, Kanhai is a bit more developed than those players when they were his age.
Hamid noted too that at 17 the only set of players he could recall matching Kanhai was Lugard and his younger brother Orin and former Caribbean all-star player and national table tennis player Ulric Tappin.
Moreover, Kanhai also does well academically as  he's an upper sixth form student at McKenzie High School in Linden and has nine CXC subjects under his belt. Hamid said that he hopes someone could recognize the high school prodigy and not allow his talent to go down the drain as in so many cases in the past.
Kanhai was part of the victorious 2007 Inter-Guiana games team but his time on the court was limited since he lacked the confidence to do well. One year later, he was given the task to lead his side but the games were called off in French Guiana.
The question is how well will he handle the pressure and how far will he go?
Around the Web