Former Guyana and West Indies fast bowler Colin Stuart resigned as the West Indies Cricket Board's (WICB) Technical Development Officer (TDO) with the Guyana Cricket Board (GCB) last month but was asked to rescind his decision by GCB's vice-president Bissoondial Singh.
The 35-year-old Stuart who played six test matches for the West Indies and took 20 wickets at an average of 31.40, that went along with his 144 first class wickets from 52 matches at an average of 30.09, took over the position from former Guyana and West Indies off-spinner Clyde Butts.
Speaking with Stabroek Sport after an examination at the University of Guyana (UG), Stuart stated that he enjoyed executing his duties as TDO with the GCB but there were certain conditions that needed to be met.
"I love cricket. It has given me a livelihood and when I was appointed to replace Butts, I took up the challenge with glee. But in order for me to continue executing my duties as TDO, there were certain conditions that needed to be met."
"I am not saying that I cannot or don't want to contribute towards the development of cricket here in Guyana. I have an interest in the sport but once it is interfering with my personal life, I may need to give it away. But at the same time, there are certain conditions the GCB would have to meet," said Stuart.
The right handed fast bowler who had a best of 3-33 against Zimbabwe at Harare in July 2001, stated that he gave to the GCB the  one-month notice as required  but was asked to rescind his decision.
"The executives of GCB have scheduled a meeting with me tomorrow (today) or Friday to see how best we can work around things here. But in the meantime, my resignation has been placed on hold as per contractual agreements I have to finish off certain projects that were started under my tenure as TDO."
He was making reference to the Scotiabank sponsored Kiddies Cricket and the UNICEF Development of the player programmes respectively, which he noted  was a pleasure executing, especially the Kiddies programme.
"Growing up as a youngster in my club Malteenoes Sports Club and even when I played for both Guyana and the West Indies, older persons always took the opportunity to impart some knowledge about the game that would help me, thus when I was given the opportunity to do so, I was elated."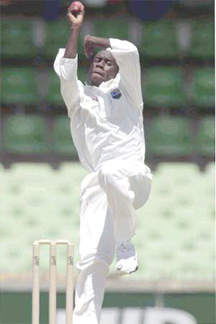 He continued: "Once the GCB is satisfied with my terms of conditions, we can work together as I have no problem contributing towards the development of the game, especially amongst the younger persons who are desirous of playing the game."
Stuart also said that he will be travelling to Barbados sometime next month for two weeks, during which time he will be attending a Coach's Educational Programme which would better serve him as TDO of Guyana's cricket, once the GCB meets his conditions.
Meanwhile, Singh who is acting in the capacity of president in the absence of the GCB boss Chetram Singh, stated that he personally subscribed to the fact that Stuart should not resign so soon, and asked that he  would re-visit his decision.
"He is a rare asset here in local cricket administration, being that he is a former Test cricketer and a UG graduate and with that in mind, I personally subscribe to the fact that he should rescind his decision."
Singh further stated, "Stuart's knowledge of the game is also an asset which served him well in coordinating programmes with the GCB and at the moment if we can have 10 more like him, I think our cricket will develop at a faster rate."
While stating that he is unaware of the conditions the former TDO is asking to be met, Singh  pointed out that the GCB would be willing to   meet Stuart half way in the interest of the development of the game.
"He has not highlighted anything to us as yet, but whatever his conditions and criteria are, he is an asset and if there are ways we can contribute towards him staying on as the TDO, we will do so. Not only for Stuart, but other former players who are willing to contribute towards the development of the game," Singh said.
Around the Web