Under the guidance of national female coach Phillip Fernandes the Guyana Hockey Board (GHB) will begin their preparation today for the 2009 Caribbean Hockey Cup which will be held in Kingston, Jamaica from June 22-29.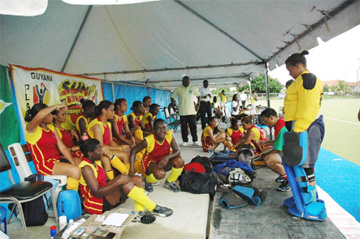 The GHB has short-listed 27 players who will be in training at the GCC ground and the selections will be done before the end of April.
In the first and only Caribbean Cup held in Trinidad in 2007, Guyana's ladies failed to win any matches but showed marked improvement throughout the competition and earned high praise from those in attendance.
The Guyanese team, comprising several players making their international debut and seeing artificial turf for the first time, lacked the exposure and experience of their opponents  but nearly  upset eventual finalists Jamaica in their 0-1 loss in the pool round.
After losing by 5-0 to Barbados in the opening match, Guyana's improvement was also evident when they met them again in the bronze medal playoff, almost pulling off the 1-0 victory until succumbing to a 2-1 defeat.
According to coach Fernandes, the ladies were new to competition as all of the players were competing in either their first or second international at the time.
While Trinidad, Jamaica and Barbados would have benefited from several international engagements since the last Caribbean Cup,  the GHB is confident that the ladies can improve on their last performance and hopefully achieve their goal of qualifying for the 2010 CAC Games in Puerto Rico.
The GHB is asking that the following players be present today at the GCC ground from 5:30 pm
Alysa Xavier, Tonza Sarrabo, Natalie Hing, Tracey Atkinson, Trisha Woodroffe, Sonia Gordon,Tiffany Solomon, Vanessa Pires, Wendy Boodhoo, Vashema Bourne, Tricia Fiedtkou, Marzena Fiedtkou, Thalia Fiedtkou, Makini Harry, Marisha Rodrigues, Sonia Jardine, Maria Munroe, Chantelle Fernandes, Cora Towler, Amanda Garnett, Brennette Gordon, Ulrica Sutherland, Carol Caine, Gabriella Xavier, Dominique DeGroot, Kerensa Fernandes, Avonda James.
Around the Web