The Guyana Karate Federation (GKF) last Sunday held its 2008 senior karate championship at the Cliff Anderson Sports Hall (CASH).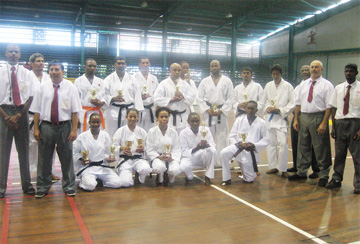 Eighteen karatekas from the International Shotokan Karate Federation – Guyana (YMCA dojo), Guyana Japan Karate Association, Guyana Wado Ryu Karate Association and the Shotokan Karate International Federation – Guyana competed for supremacy. Both Nathalie Gibson and Nikita Clarke walked away with double silverware in the Female Open Kata and Kumite competitions while Abdur Kellman carted off the Open Male Kumite title.
The athletes were judged by president of the GKF Amir Khouri, vice-presidents Winston Dunbar and Christopher Chaves, along with Jennifer Cyrus, Nandra Lall and Marvin Singh.
The GKF will run off its 2009 Junior championships in June while the Senior championships will be held in August at the CASH. The full results from Sunday's championships are as follows:
Kata – Male Open
1st Place    Orin Edghill
2nd Place    Shamash Persaud
3rd Place    Patrick Cheeks
Kumite Male Under 60 kg
1st Place    Shahab Zaman
2nd Place    Kawall Ramkarran
3rd Place    Navin Prashad
Kata – Female Open
1st Place    Nathalie Gibson
2nd Place    Nikita Clarke
3rd Place    Tamika Nicholas
Kumite – Male Under 80 kg
1st Place    Christopher Waddell
2nd Place    Marlon George
3rd Place    Carwyn Holland
Kumite – Female Open
1st Place    Mandessa Moses
2nd Place    Nikita Clarke
3rd Place    Nathalie Gibson
Kumite – Male Open Over 80 kg plus
1st Place    Abdur Kellman
2nd Place    Patrick Cheeks
3rd Place    Darren Nurse
Around the Web