Vice-president and president of the Guyana and Demerara Cricket Boards respectively Bissoondial Singh was re-elected to the stewardship of the East Coast Cricket Board (ECCB) following its Annual General Meeting (AGM) late last month.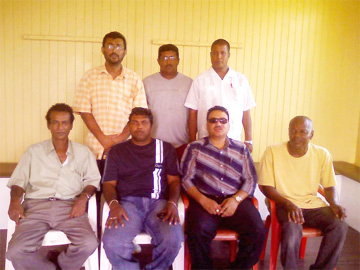 Former assistant secretary, Raymond Barton, replaces Daverteeth Anandjit as vice-president and, along with Samaroo Jailall who is the other vice-president, Judister Rampersaud (secretary), Pretipaul Jaigobin (treasurer), Nayatanand Manbodh (asst. secretary) and Mohammed Shamshudin (PRO) will assist Singh in running the affairs of the ECCB.
Speaking with Stabroek Sport, Singh stated that more cricket will be played on the East Coast with an emphasis on youths.
"The East Coast has been divided into four areas with personnel being placed in charge of those areas and being mandated to report back to the ECCB. Apart from that, we are looking to have more cricket played in the area, especially at the youth level, as our main objective is to have the players active, especially the younger ones.
"Whilst we could not run off our Under-15 competition, due to a rush by the GCB to host their Castrol-sponsored Under-15 Inter-county tournament, we will be having our Under-17 and 19 tournaments played with the Under-19 being the prioritized one as the GCB will be holding the GTM Under-19 tournament soon," Singh stated.
Singh also stated that the ECCB/Carib-sponsored first division 20/20 competition has reached its semi-final stage. The semi-final and final  will be played this Saturday at the Enterprise Community Centre ground with the final being contested under lights from 19:00hrs. "In addition to the East Coast having its own first division team, we want to create a third division where the senior players will be mingling with the junior players and they will compete in the second division President's Cup 40-overs-a-side competition," Singh said.
Around the Web