President of the Guyana Amateur Basketball Federation (GABF) retired Col. Godwin McPherson said that he was more than pleased with the performance of the participating clubs in this year's Next Level Entertainment (NLE) basketball tournament which ended recently.
Speaking at the presentation ceremony at the Waterchris Hotel Wednesday night the veteran GABF boss said it was heartening to see how well they all played and entertained the fans who turned out nightly.
"Myself and the organizers worked hard on getting the fixtures for the tournament right because we wanted it to be balanced and I must say that what I have seen tells a lot about how much talent we have. So to the teams I say thank you and to the winner, the Dyna's Ravens, I say congratulations," said McPherson.
He added that the organizers themselves should be applauded for a well-executed tournament.
All the games started on time and the organizers also made sure that the patrons were comfortable and their vehicles secured.
Meanwhile, the NLE group which consists of Travis Sheppard, Yannick Charles and Jamaal Douglas said they were pleased to pull off the event.
They thanked the GABF for its support in making sure that the tournament was a success.
Sheppard said that he was more than impressed with the level of play throughout the event and also congratulated the Ravens on their victory.
He also promised more basketball, notably at the school level, and said that a Super Eight tournament was already on the drawing board.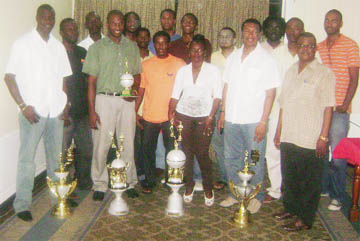 Ryan Gullen of the championship side Ravens copped the Most Valuable Player (MVP) of the tournament award after scoring a total 44 points, grabbing 29 rebounds, and coming up big with eight block shots and three steals.
All the other prizes went to the Linden teams who dominated the tournament but came up short in the final. Mark Wills from the Amelia's Ward New Ballers received the prize for the most three pointers in one game [5] which was scored against Ravens on the opening night.
The best defensive player award went to Dwayne "Brown Sugar" Roberts of the Victory Valley Royals who was in superb form throughout the tournament. He snared 58 rebounds, had eight blocked shots and took eight steals.
Dyna's Ravens collected the winner's purse of $300,000 while Royals took home $200,000, Kashif and Shanghai Kings who finished third collected $100,000 and Amelia's Ward Jets $50,000.
The event featured 16 teams from Linden and Georgetown.
Around the Web