Caesar Barrow, former lightweight champion of Guyana was forced to quit the ring prematurely following a motorcycle accident on the East Bank Public Road in 1963.
Barrow was once a symbol of hope and courage of the downtrodden; a man whose pure and simple way of doing things inspired all.
He was also a man whose personal integrity and high standards of sportsmanship were beyond reproach.
This one time master fighter, died on July 4 2005 at the Georgetown Public Hospital. He was 70 years old.
Barrow was born to troubled times.
On March 4 1935, in a small village on the East Bank, he commenced his amateur career in the early 1950s.
In 1952, he defeated Vasbert Fernandes for the national amateur featherweight title.
By the time Barrow was ready to launch his professional career on February 29, 1955, he was joined by the outstanding trainer Joe Corbin.
He won his first professional fight by scoring a three round kayo over his old rival Fernandes and he rolled off two more victories before having his first main bout against Henry Jack on November 12 1956.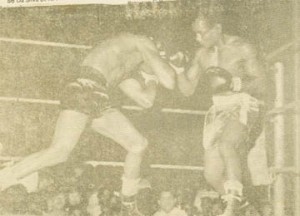 In that bout he forced the referee to call a halt to the battle at two minutes, 40 seconds of the fifth round.
It was Jack's first big fight but Barrow was too good, flooring his opponent in the second frame and twice in the fifth before referee Charlie Chan-A-Sue stepped in. Barrow continued his savage ways when he travelled to Trinidad and faced Johnny De Peiza.
He was given little chance against the hard-hitting Trinidadian but his aggressiveness and self confidence won the crowd's reluctant admiration and he proved his value by giving De Peiza the worst beating he ever had before knocking him out in round five.
Barrow next took on another Trinidadian Aloysius Marcano and once more chalked up another victory. Marcano was floored for a nine count before the end of the sixth round and George Beckles, Marcano's chief second indicated to referee Tommy Wheating that his fighter could not continue.
By this time Barrow was tipped by many as the future lightweight champion of British Guiana.
That title was at the time held by Ivelaw Stephenson.
Cyclone Kid, another popular British Guiana fighter during that time was Barrow's next victim.
He found the skill of Barrow too much and lost back-to-back encounters.
Barrow then travelled to the Twin-Island Republic again where he took on Aruba's Kid Chocolate and recorded a fourth round kayo.
The Kid was granted a return bout but on that occasion despite going the full distance he lost on points.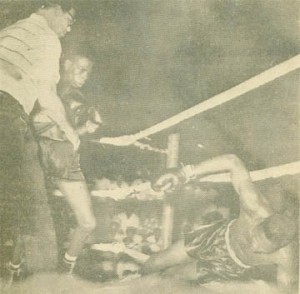 Barrow then defeated Shavilan Kid in Dominica on August 14 1954 over 10 rounds. Kid Chocolate then challenged Barrow for a third time but was knocked out in the second round.
Barrow, unbeaten up to this point, then matched gloves with Trinidad's James Harper, who handed Barrow his first defeat, scoring a first round kayo at the BGCC ground on March 28, 1960.
Barrow, anxious for a return bout with Harper, worked his way back up and in impressive fashion too. On May 23, 1960, he challenged Emmett `Six Seconds' Smith for the vacant lightweight title of British Guiana which had been vacated by Stevenson who had won the welterweight title in 1955.
Smith was no match for Barrow and was knocked out in the sixth round.And there could not have been a more impressive start towards another battle with Harper when they brought in Cuba's Emilio Sanchez on August 10, 1960.
Thrice down in three rounds, Barrow staged perhaps the greatest comeback in local boxing history by knocking out Sanchez in the fifth round.  According to the local press, fans eyes popped out when Sanchez landed with an overhand right and Barrow went down towards the end of the first round.
In a terrific third round by both men, the Cuban sneaked in a powerful right and down went Barrow again.
Sanchez battered away at his man and although Barrow covered up he could not keep out all the bombs.
The Cuban got through with a sweeping left, followed by another overhand right and Barrow like a Jack in the Box, went down again.
When at last the count started, Barrow got up at four but again the Cuban was on him like a tiger. And it seemed as if the local champion could not withstand the fearless attack to Sanchez.
Somehow Barrow survived the round. It was a revitalized Barrow who started the fourth stanza. Showing little effect from the knockdowns he suffered. Then as the crowd roared, he moved in for the kill. With lefts and rights that had the Cuban's face in a bloody state, Barrow continued his relentless aggression, hitting his opponent at will before the bell signaled the end of the frame.
The warning whistle sounded for the fifth and the now pumped-up Barrow quickly got off his stool intent on finishing his man. However he never got the opportunity to throw another punch in that clash as Sanchez's handlers signaled that their boxer had had enough.
One month later the two collided again and this time Barrow dominated the Cuban in the eighth round.
Barrow's mind was now set on a rematch with Harper. Finally the bout was arranged and on March 7, 1961, at the GFC ground it was sweet revenge for Barrow who battered Harper and forced him to call it quits at the end of the third round.
Barrow had one more fight in 1961 and it was a bloodied one. He knocked out Francisco Barraez in the eight round. The Guyanese then travelled to Port of Spain on January 26, 1962 and perhaps what could be considered his most memorable achievement stopped Arthur Persely, of the USA in three rounds.
Persely at the time was rated number three in the World with 75 fights, winning 62 (20 kayos), losing 11 and drawing two.
He had already defeated such boxers as Vicente Rivas, Virgil Atkins, Hocine Khalfi and Joe Brown.
He also fought Carlos Ortez, Tony Di Marco, Wallace Smith and Orzando Zuluta.
Barrow was battered from one corner of the ring to the other in the first round and was in deep trouble but Barrow, who had always shown amazing recuperative powers came back strongly to cut his opponent up and finally stopped Presely in the third round.
Barrow then lost in a return match with De Peiza and in a twist of things sometime in the midst of 1963, Barrow got into a motor cycle accident on the East Bank Public Road where he sustained head injuries and was never himself again.
He travelled to Mexico on May 16, 1964 and was knocked out by Sailon Celis, in three rounds. He also lost to Lennox Beckles, in a first round knockout. He had his last bout on September 15, 1965 when he defended his British Guiana lightweight title against Cecil `Rugged Mac' Mac Intosh being knocked out in the 13th round.
Barrow retired in 1966. He was attached to the National Sports Development Council as a coach. He was also a sergeant and boxing coach in the Guyana's People's Militia and also coached the late featherweight boxer Courtney Atherley at the Commonwealth Games in Scotland in 1970 where Guyana won its first bronze medal. He was awarded the Medal of Service (MS) in 1989.
He retired with a record of 29 fights (15 kayos), 23 wins, and six losses.
Hail Caeser!
Around the Web