He might have the name of one of the most revered boxers in professional boxing today but young Guyana amateur boxer Roy Jones (no Jnr.,) did not live up to that moniker on Saturday night.
In one of 12 bouts on the final night of the Guyana Amateur Boxing Association (GABA) Novices championships at the National Gymnasium, Jones was stopped by Jermaine Dow in a middleweight bout.
And Dexter Jordan recorded a comprehensive victory over Herlando Allicock in their match. Jordan, of the Forgotten Youth Foundation, (FYF) won a unanimous decision against his gym mate.
Both boxers landed good scoring punches but it was Jordan who went ahead after landing hard, accurate punches which stunned Allicock on a few occasions.
Harpy Eagles' Steffon Gouveia reigned supreme winning two middleweight bouts on Saturday evening.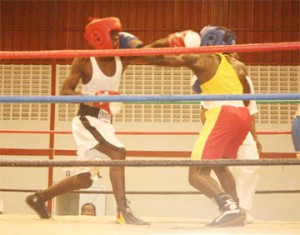 He recorded his first victory against Republican's Jermaine Pompey then returned later in the night to defeat Pompey's gym mate Davion Abrams.
Guyana Defence Force's (GDF) bombers Mark Pierre and Devon Boatswain contested a tough fight against each other that was laced with power punches.
Pierre, who looked relaxed from the first bell, defeated his gym mate by using his experience,  sticking in the jab and following up with a  few power shots.
Essequibo's Aubrey Moore won his match up against GDF's Bert Braithwaite in the junior welterweight division via the walkover route while Roy Sandiford (GDF) defeated Republican Jermaine Cort in their featherweight bout.
The referee stopped the contest 1:39s into round two of the Dellon Charles/Dwayne Roberts bantamweight bout.
FYF's Charles comprehensively thrashed Roberts (Republican) landing a few body shots that took the wind out of Roberts who never troubled Charles.
Port Kaituma's Anthony George made light work of Republican's Nankumar Singh in their junior welterweight match while Kenroy Fraser (Republican) defeated gym mate Klaus Daniels in a welterweight encounter.
In other results Ricola Warriors' Marlon Teixeira defeated Akeem Daniels (Harpy Eagles) in the 75-79lbs category and Romel Rowley won against (Republicans) club mate Corwin Lambert in a 70-74lbs bout.
Around the Web