By Rawle Toney
Alpha 'The Hammers' United has been practising at the Carifesta Sports Complex, Carifesta Avenue, ahead of their away game in the 2009 Caribbean Football Union (CFU) Caribbean Cup in Haiti against Tempete FC.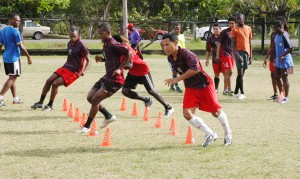 Alpha  who  became the first team from Guyana to participate in the event will be going into the second leg with a goal down (2-1) after drawing with the Haitians (1-1) when the two sides met last week at the GCC, Bourda.
To ensure their success, the club strengthened their coaching staff by bringing in Pele coach Denzil "Hunky Brains" Thompson who was contracted just for the game in Haiti and he will be assisting coach Mervyn "Pug" Wilson, leaving stand-in assistant coach Charles "Lilly" Pollard to stay focused on his duties as captain of the side.
Thompson who has coached Pele to the Kashif and Shanghai title and most recently the Mayor's Cup title where he defeated Alpha Untied in the finals, said that once he is given enough leverage he will make sure that 'The Hammers' advance to the next round.
Speaking exclusively with Stabroek Sport, Thompson said: "I think if I get an opportunity to really work with this talented bunch of players I would certainly change certain things based on what I saw in the team's first game against the Tempete FC."
"I think the team [Alpha] has a much better defence but they keep the ball too long at the back and as far as their offence they [Alpha} again have the upper hand but they need to learn a bit more variation."
He noted further that it will be much easier to implement new strategies since the players in the side are extremely talented and are professionals.
Meanwhile president of the Club Odinga Lumumba said that he feels his team will correct their mistakes made in their last game and with the inclusion of coach Thompson on their staff for the return fixture, they will move on to the next round.
But this will not be an easy task for the Guyanese, since the coach of the Haitian club, Plaisir Wilcuins, speaking through his interpreter Christopher Nezivar before his departure last week said that his team will make rings around the 'The Hammers'.
He said that his club was not their usual selves because they don't throw away goals as they did in the game and also since they will be having the support of their home crowd, his players will be far more comfortable.
Touching on Alpha's performance against his side, Wilcuins said that the Guyanese team is indeed talented but their level of football is very poor.
Alpha will depart Thursday for their game which will take place on Sunday. Initially, the game was supposed to be played tomorrow, but the Guyanese asked for an extension because of some financial constraints.
Around the Web