Guyana welcomed German Grand Master Rainer Buhmann yesterday on a three-day visit, the first by a Grand Master in 32 years.
Buhmann accompanied by members of the Guyana Chess Federation (GCF) paid a visit to the Minister of Culture, Youth and Sport Dr. Frank Anthony at his office where they exchanged a few welcoming words.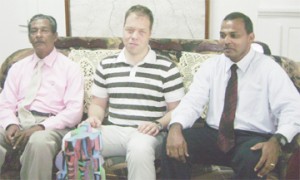 The 28-year-old stated that he was sent by the International Chess Federation (ICF) to help Guyana take a step forward in the chess arena where they have struggled somewhat since a major resuscitation of the sport about two years ago.
Dr. Anthony stated that there is a very active chess programme which is developing and that the federation must be credited with keeping the sport vibrant.
"We are very pleased we can have such a high profile person here to interact with our members of the chess society and to further help in the development of the sport in the country" Dr. Anthony said.
Accompanied by President of the GCF, Errol Tiwari, who stated that the three-day visit will be one that the federation will cherish as it can gain so much from one of the top rated players in the world, Buhmann will also be meeting with Guyana's top players and analyzing past games and working on bettering their strategies.
From Guyana Buhmann will travel to Barbados to compete in the Heroes Day Chess Cup this month end.
Around the Web