Former Guyana and West Indies cricketer 74-year-old Ivan Madray died at the Georgetown Public Hospital (GPH) yesterday, after being admitted the previous day, suffering from hypertension.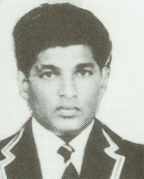 According to the cricket website www.cricinfo.com "Madray was a middle-order batsman and leg break bowler who played two tests against Pakistan in 1957-58 with no success, scoring three runs and taking one wicket.
His first-class career consisted of only six matches and was over by the time he was 24. He subsequently moved to England and played for Lincolnshire."
Madray made his debut for the West Indies against the Pakistanis at the Queen's Park Oval in Trinidad and Tobago, playing alongside some famous West Indies cricketers such as Sir Garfield Sobers, Sir Everton Weekes, Sir Conrad Hunte, Rohan Kanhai and Lance Gibbs in a match the regional side went on to win by 120 runs.
Meanwhile, the Berbice Cricket Board (BCB) in a press release, expressed its condolences at the sudden passing of Madray who was home on holiday from the United States of America (USA).
The release said the Berbice Cricket Board (BCB) "with much sadness has learnt of the sudden and unexpected death of former West Indies player Ivan Madray. Mr. Madray who was on a vacation to his home village of Port Mourant took ill on his way to the airport for his return trip to the USA on Wednesday. He was rushed to the Georgetown Public Hospital where he died."
Born on the 2nd July 1934 at Port Mourant, Madray made his first class debut for British Guiana against the visiting Australians on the 20th April, 1955 and his test debut against Pakistan three years later.
He played two test matches for the West Indies as a right handed batsman and leg break googly bowler and was one of several cricketers to emerge from Port Mourant under guidance of former West Indies batting star Sir Clyde Walcott. Other contemporaries included Basil Butcher, Rohan Kanhai and Joe Solomon.
The BCB extended sympathy to the wife, children and other relatives of Madray. The Berbice Cricket Board is to unveil later in the year a programme to honour the memory of this Berbice cricketer. "… we are confident that young cricketers can learn much from how Mr. Madray played his cricket especially from his discipline passion and hard work."
Meanwhile the Management from the Rose Hall Town Youth and Sports Club and other member clubs expressed profound sympathy to Madray's family. The Rose Hall Town Youth and Sports Club is situated less than a mile from the birth home of Madray and says it has been inspired by the legends of Port Mourant especially Madray, Butcher, Solomon and Kallicharran.
"The best tribute the cricketing community of Berbice can play to Madray is for our young cricketers to follow in his footstep especially his love of the game without looking out for too much financial rewards", the club said.
The funeral service for Ivan Madray will take place tomorrow in his home village of Port Mourant.
Around the Web