The end of an illustrious career
Guyanese-born former International Boxing Federation (IBF) champion Gairy "Superman" St. Clair's announced retirement from the boxing ring this week has brought to an end an illustrious career for a fighter who possessed great potential but might have been robbed of much needed success earlier in his vocation in the fistic sport.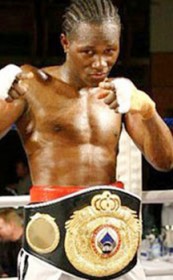 His departure from boxing at the age of 34 years could have been prompted by a recent string of defeats.
St. Clair suffered losses in the last four of his six fights in a hectic schedule which saw him making unsuccessful bids at the IBF Pan Pacific welterweight title and the little-known World Boxing Foundation lightweight belt.
He became only one of four Guyanese to have won world titles when he claimed the IBF and International Boxing Organisation (IBO) titles in July 2006 in his win over   Cassius Boloyi of South Africa for the super featherweight crown.
A reign that was short lived because a few months later he lost the crown to another South African Malcolm "Stone" Klassen in a major upset.
He had followed in the footsteps of Andrew "Sixhead" Lewis, Wayne "Big Truck" Braithwaite and Vivian Harris recognized Guyanese boxers who also won world titles.
St. Clair had initially launched his professional career locally like many other local pugilists but eventually shifted to the United States after fights were hard to secure at home and the prospects for a world title shot was non existent.
The competition in United States was also fierce for the 5ft. 4 ins. (163 cm) crafty St. Clair although he trained at the world renowned Gleason's Gym in New York that produce many world champions.
St. Clair then traveled to Australia on what should have been a short stint but his Australian trip paid dividend to his professional career because it was Australia that his career really took an upward path.
He had gone "Down Under" to be a sparring partner for former undisputed world champion Kostya Tzsyu who was preparing for a defence of a title.
Being under the watchful eyes of Johnny Lewis who also trained Tzsku, St. Clair moved up the ranks in Australia's boxing and the international stage and despite his success he remained close to his Guyanese roots.
Boxing fans who have followed St. Clair's career would remember him being a pugilist of extreme immense   talent whose potential was brought to the fore very early in his career when Guyana was turning out amateur and professional boxers of international repute.
He displayed excellent reflexes, lightning quick hands and was a very cool customer in the ring despite his average height.
Like two of his predecessors Patrick Ford and Lennox Blackmoore who were respected internationally, St. Clair commanded respect from all and sundry including journalists who remarked regularly about his talent.
As an amateur he won a bronze medal at the Central American and Caribbean (CAC) Games in 1993 and also represented Guyana at the Commonwealth Games in Victoria, Canada before finally vacating the amateur ranks with a startling 54 fights with 50 wins, one year after his CAC success. His professional career also started with a bang when he raked up 16 unbeaten fights.
His last three fighters were all but warning signals that his success in the ring had started to erode. He faced an out-of-the-ring controversy in his bout against Mlungisi Dlamini in South Africa when he accused the promoters of the fight of treating him badly and refused to provide him with food when he arrived for the contest.
He also lost to Amir Khan the Commonwealth lightweight champion in February last year when he decided to step up in weight for a shot at the Commonwealth title.
St. Clair has indicated that he will remain around boxing as a trainer and with his vast skills and experience he will be turning out world class boxers in the not too distant future.